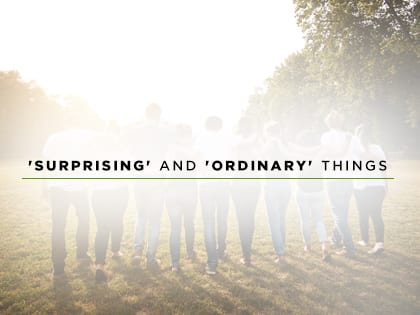 "When local churches work together, get along and actually like each other, people start talking."
A local news channel does a story on the "heroic" action of a young man who stopped to intervene when he saw a middle school student being picked on by some bullies. A businesswoman pulls her car over when she sees an elderly couple stuck on the side of the road on a rainy evening and the couple seems astounded that anyone would take the time to help. A 7-year-old holds the door at an apartment building for a family carrying groceries and they talk about "how polite the child was" a number of times throughout the evening.
Have you noticed that people are surprised and even shocked when they see something that should be an ordinary occurrence?
We live in a time when it does not take much to impress people. If we are hospitable, kind, generous, thoughtful or civil, people take notice. In a very similar way, when local churches work together, get along and actually like each other, people start talking. For some reason, these things are seen as out of the ordinary when it should be absolutely commonplace.
A few years ago, Shoreline Community Church felt a call to plant a new congregation in a nearby small town called Pacific Grove (PG). We studied the community and discovered that there were just a handful of biblical and distinctively Christian congregations. These churches had two important things in common: They were all fairly small and they were all made up of wonderful folks who were predominantly older.
At that time there wasn't a church in Pacific Grove that was worshipping consistently with more than a hundred people. Though the town is not large, it was clear that the vast majority of people in that beautiful coastal region weren't connected with a local church.
With this in mind, we prayerfully began the process of multiplication by launching a new congregation in this small town. What we have discovered over the past three years is that many of the things we have done that seemed ordinary to us have been surprising to others.
1. Enter a new community as a partner and not as a rival.
As we prepared to plant a new Christian congregation in the town of PG, we did not see ourselves as coming to "do it right" or "take over." We had a distinct sense that we were coming as a partner in the gospel. We actually contacted all the churches in town and offered to take the pastor and a board member out to lunch so that we could share the vision God had given us. Over half of the churches sent a pastor, elder or both.
At the lunch, we shared our sense of calling to come and partner with the other churches and believers in the community. Some of the guests were visibly excited and verbalized their anticipation. A few seemed cautious, but their love for Jesus and heart to reach their community was clear to see. We prayed together and shared community, and the pastor who would be leading this new congregation began to build relationships with other local church leaders.
We discovered that those who came were pleasantly surprised with our commitment to work with them. Friendships were born and partnerships forged.
2. Share resources freely.
A short time after the lunch, one of the church leaders contacted Shoreline and shared a dilemma they were facing. He was serving in an interim capacity at the largest church in town. Many years earlier they worshipped with more than 200 people, but now they had fewer than a hundred gathering on a weekly basis. They had just lost their worship leader and a couple of key musicians. "Is there any chance Shoreline Church could provide a small worship team to lead our congregation for a month or two?" they asked. "We are really stuck."
At the lunch we had said, "We are coming to be a ministry partner and we want to serve the other churches in town." So this pastor was wondering if we would put our money (or our musicians) where our mouth was.
By God's grace, a number of our worship team members were excited to help. For eight weeks, volunteers and staff from Shoreline provided Spirit-filled and joyful worship music for this congregation. They offered to pay us, but we refused. We were clear that "this is what neighbors do."
3. Encourage each other.
Shortly after this, a pastor of a different church in PG called. He just wanted to spend some time with the new pastor that would be coming to town. They and their wives went out for pizza. Nate, our pastor who still leads Shoreline Church in Pacific Grove, also brought his newborn son.
They had a delightful time and became friends. The same pastor called me and asked if we could meet and if he could ask questions about how he could help his church reach new people. The average age of their church attendees was over 70. We went out for lunch, had a great conversation about evangelism and discussed ways they might begin to reach younger people.
4. Pray together.
One of the great things that Pastor Nate did from the start was commit to prayer-walk the community of PG. Nate loves to walk (often with one or both of his sons) and pray for the churches in the community, for the businesses and for the people of PG. As a new pastor in town, he has given an open invitation for other pastors and church leaders to join him, walk and pray together.
5. Pray for each other.
One more way that Shoreline partners with other churches is that we pray for one local or international church every week in our worship services. We actually contact them and ask for specific and pressing needs. We pray for the church by name and for the pastor by name. We thank God for these churches and pray for a powerful outpouring of the Holy Spirit as they worship, grow in faith and partner with us in reaching out with the gospel.
It might seem like praying for other local churches should be an ordinary occurrence in every Bible-believing Christian church, but I have to tell you, it surprises people. One of the most common comments I get from visitors to Shoreline in Monterey is that they love that we actually pray for other churches and see them as partners in the work of Jesus.
I know that Pastor Nate gets the same comments at Shoreline PG. People in our community and other Christians are actually shocked that we see other local churches as friends, partners and family, not as "the competition." The truth is, we have an enemy and competition, and it is not other biblical and Jesus-loving churches.
As we reach out in our own community, or launch new churches and ministries in other communities, let's commit to do lots of ordinary things that will surprise others. Let's work in intentional and consistent partnership with other churches as we worship the living God, grow believers in spiritual maturity and reach the world with the amazing and life-transforming good news of Jesus.
Kevin Harney is the lead pastor of Shoreline Church in Monterey, California, the founder and visionary leader of Organic Outreach Ministries International, and the author of the Organic Outreach series and many other books, studies and articles. For more information: KevinGHarney.com