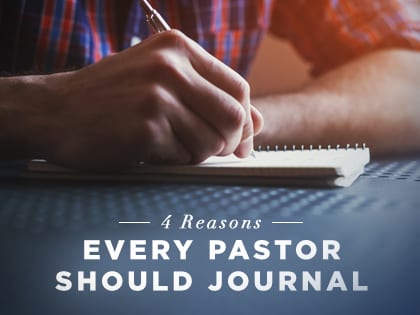 "In a world of deep conversations, we need a place to ponder better questions, not just finely tuned answers."
Journaling has been one of the most intimidating, yet life-giving habits I've ever started.
For years, I've had numerous failed attempts at journaling. Part of it was the thought of seeing it as a diary: "Dear Diary, today I don't want to write in you because I feel stupid writing this way as if you are a real person." Other times I failed because I didn't see myself as capable of writing anything meaningful.
Why? Writing has always been an area of insecurity for me. I don't see myself as "well-spoken." Or, what if someone found my journal and read my thoughts? Are they going to be critical of them? (If I were really honest with you, this was the reason I fought blogging for years.)
So periodically, I'd buy a nice journal, try it for a few days, get frustrated, literally throw it across the room, pick it up and put it on the shelf.
Rinse and repeat.
My failure came not from the attempt, but the mindset going into it. I felt I needed to journal the way (I felt) others were journaling. I'd hear about how other pastors did it and thought to myself, "What the heck is wrong with me that I can't do this?"
I'd even ask others about their approach, try it out, feel like a failure again and step away. I liken it to David trying on Saul's armor. What they handed me didn't fit right. I needed to move forward but needed to discover what "fit" me in confronting the things I was facing.
It was during a time when I was dealing with a season of depression that I found myself in "my Psalm." But that day, something changed in me. It's as if God gave me a new view of the Psalms—yes, as songs and poetry, but also as a journal. I felt the Psalms were helping me peer into the heart and emotions of some very human leaders who were dealing with deep thoughts, both good and bad.
Maybe it was the almost "unprocessed" approach of the Psalm writers that connects with me. Some of the chapters seem written with an unfiltered heart and no concern over who will read the their words/lyrics. Yet these words were not simply "venting." They were the bleeding of the heart to express, through words, what the heart was experiencing. I began to see the writers developing new perspectives as, over and over, the chaos of what they saw was overshadowed by the enduring love and mercy of God.
The Psalms gave me permission to journal the way I needed to journal. Just as the 150 chapters held so much variety in length, subject and style, I felt the Lord released my pen to transcribe not a form, but a moment. I didn't have to step into a style, but I could work out what was in my heart. Some days, my journal pages have looked like Psalm 117. Other days are a bit like Psalm 119. Length didn't matter; the journal moment did.
1. In a world of reactions, we need more careful thoughts.
Journaling has been my place to process and work though what is deep in my heart. From blogs, to sermons, to my personal devotions, the meditations of my heart are worked through privately before they're made public. Journaling for me is an act of stewardship. Everything God has given me I need to be a steward and manager of. Blasting people with rawness can my make my flesh feel good, but it can taint the testimony of Christ in my life. I don't want my pride to shine brighter than the Christ in me. So I journal.
There exists a horrible habit in social media of posting before processing. There is a boldness people feel behind a screen that has developed into an unhealthy way to express raw thoughts before you've taken time to gather them.
Friendships have been compromised over misunderstandings. Hurt and pride have kept apologies from being expressed. I often wonder if people are using social media to process what is happening internally. And when those thoughts are rejected while in the "processing stage," the depth of rejection and bitterness goes deeper. Thus, journaling can be a huge help of guiding us toward stewarding our mind and emotions.
2. In a world of deep conversations, we need a place to ponder better questions, not just finely tuned answers.
When I read the gospels, I love that Jesus could be approached with questions. I also love that he asked questions back. I feel that we in Christianity spend so much time working on apologetic answers when we should, first, have apologetic lives. It's easier to tell someone how to live than it is to show someone how to live. And the way to work that out is to begin to ask the questions that are on your heart. My journal becomes that place to ask questions, both to God and myself.
Questions are good, and God is not intimidated by them. Some of my questions to God are as I'm trying to wrap my finite mind around things in this world. Other questions are things that, I feel, the Holy Spirit is asking of me. God is big enough for my questions. Are we "big enough" for his, and do we have a place to work them out? Thus, I have my journal.
3. We don't need a place "get out our feelings" necessarily, but to sort through our thoughts.
Again, I don't do diaries, but I'm not against emotional exercises where we need to get out our feelings. For me, journaling is about processing. And most of the time, those thoughts don't get completely worked through in one day or moment. Sometimes a thought is carried over weeks and months. But my journal helps me to work through it, sometimes table it for a while, and then refer back to it as I take progressive steps forward in it.
Journal tip: I use hashtags in my journal like most people use on social media to identify topics and thoughts. It gives me to ability to more easily look back through to past thoughts and posts.
4. A journal is your "altar reminder."
A common practice in the Old Testament was to set up reminders. Shepherds would scratch accomplishments on their staffs. Scribes would write on tablets. But people, often, would build an altar. It was set up so that every time somebody saw it, it would be that reminder of what God spoke and what God accomplished.
Periodically, I'll look back through a journal. I've cringed at some thoughts and things written. I've also shed some tears as I was so humbled by the way the Lord had faithfully worked in my life. But too many people don't have those "altar reminders" that help show how faithful God has been.
I think of Psalm 77 when the writer feels forgotten. Then, in verses 11 and 12, he remembers the deeds and works of God. I like to imagine him thumbing through some previous scrolls and seeing other "altar reminders" in his life to remind him that even though his senses can't detect God, it doesn't mean that God has stopped working. God has been faithful in the past and he will be faithful in the future.
If you're ready to step out into this tremendous life-giving habit, then I'd give you this advice:
1. Buy a comfortable journal.
It's got to be something you like AND something you see of value. Investing a few bucks on it will help bring value to what you are doing. Also, it's got to be comfortable to write in. I need lines; you may not.
2. Start simple.
Write down what Scripture you read each day and a thought or two. Don't think you need to write a lot, and don't think you need to have a specific order to your words. Some days I write three sentences, some days a whole page. I include bullet points and arrows, circle words and create hashtags.
3. Find your time.
It doesn't matter what time it is, but work to find consistency. You may try it and discover that journaling is tough because of the time of day. Don't get discouraged—just change to a consistent time that fits you.
4. Make it accessible.
I keep mine in my backpack with my computer. When I get ready to work, the journal comes out with my work ready for me to write. When I go into a meeting, I like to have it handy in case I need to write down a thought to process later. If I don't have it, I use an app on my phone and make a notation that this is a "journal thought."
You've got this. As difficult as it was to begin, it has helped me become a better man, husband, father, pastor and preacher. Stewardship over our thoughts, if handled well, can position us to be more effective kingdom builders. And like many things, the most difficult things we root into our habits develop the sweetest fruit in our lives.
Dave Barringer (@PDBarringer) is the lead pastor at Kalamazoo First Assembly of God in Portage, Michigan. He blogs about pastoring and marriage at PDave.me.