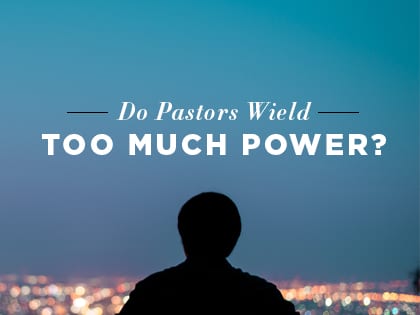 "Not until then did I understand the unique power my position, and that of every pastor, carries."
Several years ago during our weekend services, I realized how much power I wielded as a pastor. I've served in vocational ministry more than 35 years, and I knew intuitively that my position brought with it power over people—but not until then did I understand a unique power my position, and that of every pastor, carries.
When I say "power," I don't mean destructive power, as seen in high-profile megachurch-pastor meltdowns, or in the abuse cases of the Catholic church.
Rather, I see this kind of power reflected in Peter's admonition to avoid misusing our position and in the words of the writer of Proverbs.
Care for the flock that God has entrusted to you. Watch over it willingly, not grudgingly—not for what you will get out of it, but because you are eager to serve God. Don't lord it over the people assigned to your care, but lead them by your own good example. (1 Pet. 5:2-3)
Words kill, words give life; they're either poison or fruit—you choose. (Prov. 18:21, The Message)
So, the power I'm referring to is the power to bless others. These simple interactions I describe below helped me realize this influence I carry.
In one service, as I chatted with a couple with two young daughters, out of the blue the mom said, "You want to hear my daughter quote the names of the presidents of the United States?" I replied, "Sure." As I knelt down, the kindergartener quoted them. I replied with, "Wow, that's super. Good job." The following Sunday, the grandmother beamed with pride as she recounted that brief encounter. Her kids had told her about it.
That same Sunday, as I talked with a single mom she said, "My daughter made straight A's this year. She's one of the top five students in her school." I looked at her daughter and said something like, "Way to go. Keep up the good work." I could tell that my simple affirmation encouraged that mom, and the daughter, as well.
The same weekend, during my improv class's Saturday get-together, I complimented several in the group on how well they performed. Most of those in my class don't go to church and they all know I'm a pastor (and they still like me). Yet, I could sense that my genuine compliments meant a great deal to each of them.
As I've done the proverbial "put 2 and 2 together," I now realize more than ever that our position gives pastors a power to bless others in a unique way. Although everybody has that same ability, I wonder if other people give greater weight to our blessings (or lack of) than they do others. If that's true, perhaps we should bless others with our words a lot more than we do.
What do you think? Do pastors actually wield this kind of beneficent power? Am I overstating this influence? Do pastors use it enough? Can and do pastors misuse it for their own ends?
Charles Stone is the senior pastor of West Park Church in London, Ontario, Canada, the founder of StoneWell Ministries and the author of several books, including most recently Brain-Savvy Leaders: The Science of Significant Ministry. This post was originally published on CharlesStone.com.