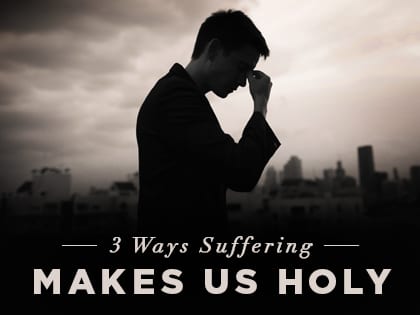 Ed Stetzer: "As disciples of Jesus, we must use hard times to harness who we really are in Christ."
Few things confuse Christians more than suffering. Through the years, many have struggled with the question, "Why do bad things happen to God's people?" It is sad that for so long, so many have not learned a biblical perspective on suffering.
Here are some thoughts on the subject from the Groups Ministry team at LifeWay.
"Why?" is the question many of us ask of the Lord when something tragic happens in our lives or in the life of someone we know. The Bible contains story after story of people suffering, but very seldom do we know why the people suffered. On this topic Paul wrote:
We also rejoice in our afflictions, because we know that affliction produces endurance, endurance products proven character, and proven character produces hope. This hope will not disappoint us, because God's love has been poured out in our hearts through the Holy Spirit who was given to us. (Rom. 5:3-5)
Related: How our pain, loss and suffering can ignite evangelism »
Rejoicing in the midst of suffering focuses our attention on the knowledge of what the Spirit produces in us through that suffering. The result is threefold: Suffering produces endurance, endurance produces character and character produces hope.
1. Suffering Unleashes Endurance
Endurance in the Bible means steadfast adherence to a course of action in spite of difficulties and testing. As we go through trials, we develop greater perseverance to deal with increased challenges. Consider words of James on the subject:
Consider it a great joy, my brothers, whenever you experience various trials, knowing that the testing of your faith produces endurance. But endurance must do its complete work, so that you may be mature and complete, lacking nothing. Now if any of you lacks wisdom, he should ask God, who gives to all generously and without criticizing, and it will be given to him. (James 1:2-5)
2. Endurance Unleashes Character
As God produces in us a greater fortitude and capacity to deal with more hardship, he brings out character. Character is the image of Christ that's present in us becoming more and more clearer. Character means to expose the quality of what's being tested.
In the heat of suffering, God gives grace for us to endure. A goldsmith uses heat under a smelting pot to bring impurities to the top. The impurities are skimmed off, leaving only pure gold behind. In the same way, God uses our suffering to bring out impurities in our lives and remove them. Peter alluded to this concept:
You rejoice in this, though now for a short time you have had to struggle in various trials so that the genuineness of your faith—more valuable than gold, which perishes though refined by fire—may result in praise, glory and honor at the revelation of Jesus Christ. (1 Pet. 1:6-7)
The smelter knows the gold is ready to come off the heat when he sees his face in the melted metal. There are no impurities left to obscure his reflection. When the goldsmith sees his reflection, he knows the precious metal is now ready to be molded into what he desires. This is a picture of the way God brings out our character through suffering.
3. Character Unleashes Hope
Character that's sanctified by the gospel becomes progressively more stable and is therefore able to focus more effectively on the things of the Lord. Character unleashes hope in suffering. Hope is the joyful expectation of what the Lord has promised. Paul wrote:
Now may the God of hope fill you with all joy and peace as you believe in him so that you may overflow with hope by the power of the Holy Spirit. (Rom. 15:13)
As disciples of Jesus, we must use hard times to harness who we really are in Christ. Until the earthen vessel is broken, the treasure within it can't be seen. Likewise, as our brokenness is exposed, Jesus is seen. It's glorious to know that a Christian's suffering in this life isn't a denial of who Christ is but an affirmation. As we experience hardship, every test of the living God finds us transformed into pure gold for his glory.
If you want to study this concept with your small group, Unleashed: Being Conformed to the Image of Christ by Pastor Eric Mason is a Bible study that helps participants understand the lifelong process of spiritual growth and to maximize God's work to conform them to the image of Christ. It helps small group members understand that God's will is not just for us to be born again—but for us to grow into spiritual adults. Unleashed is a biblically based, practical tool that unleashes believers for spiritual growth in Jesus Christ.
Ed Stetzer holds the Billy Graham distinguished chair of church, mission and evangelism at Wheaton College and the Wheaton Grad School, where he also oversees the Billy Graham Center for Evangelism.