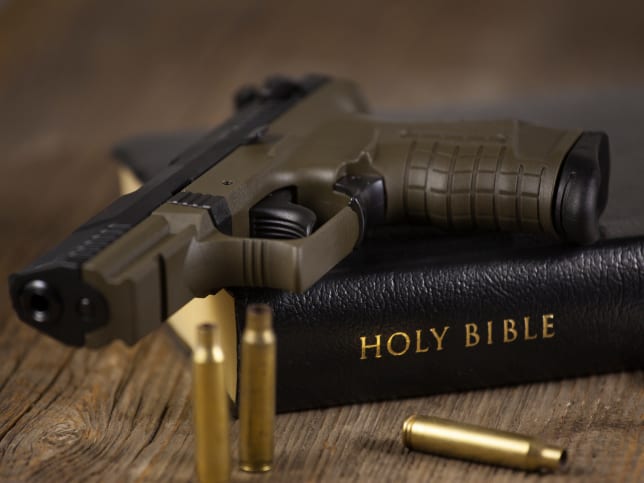 John Piper: Why carrying concealed weapons works against the counter-cultural, self-sacrificing, soul-saving cause of Christ.
As chancellor of Bethlehem College & Seminary, I want to send a different message to our students, and to the readers of Desiring God, than Jerry Falwell, Jr., sent to the students of Liberty University in a campus chapel service on Dec. 4.
For the sake of the safety of his campus, and in view of terrorist activity, President Falwell encouraged the students to get permits to carry guns. After implying that he had a gun in his back pocket, he said, "I just want to take this opportunity to encourage all of you to get your permit. We offer a free course. And let's teach them a lesson if they ever show up here." He clarified on Dec. 9 that the policy at Liberty now includes permission to carry guns in the dormitories.
Falwell and I exchanged several emails, and he was gracious enough to talk to me on the phone so I could get as much clarity as possible. I want it to be clear that our disagreement is between Christian brothers who are able to express appreciation for each other's ministries person to person.
My main concern in this article is with the appeal to students that stirs them up to have the mindset: Let's all get guns and teach them a lesson if they come here. The concern is the forging of a disposition in Christians to use lethal force, not as policemen or soldiers, but as ordinary Christians in relation to harmful adversaries.
The issue is not primarily about when and if a Christian may ever use force in self-defense, or the defense of one's family or friends. There are significant situational ambiguities in the answer to that question. The issue is about the whole tenor and focus and demeanor and heart-attitude of the Christian life. Does it accord with the New Testament to encourage the attitude that says, "I have the power to kill you in my pocket, so don't mess with me"? My answer is, No.
Here are nine considerations that lead me to this conclusion.
1. The apostle Paul called Christians not to avenge ourselves, but to leave it to the wrath of God, and instead to return good for evil. And then he said that God gave the sword (the gun) into the hand of governmental rulers to express that wrath in the pursuit of justice in this world.
The movement from Romans 12:17–21, laying out the mindset of the Christian toward his enemies, to Romans 13:1–4, laying out the rights and duties of government, is crucial. God intends to reveal his justice in the common grace of police and military (Romans 13:1–4). And he intends to reveal the supreme worth of his Son and his salvation in the special grace of a Christian people who have the miraculous power to entrust themselves to his care while suffering unjustly.
Romans 12:17–21:
Repay no one evil for evil, but give thought to do what is honorable in the sight of all. If possible, so far as it depends on you, live peaceably with all. Beloved, never avenge yourselves, but leave it to the wrath of God, for it is written, "Vengeance is mine, I will repay, says the Lord." To the contrary, "if your enemy is hungry, feed him; if he is thirsty, give him something to drink; for by so doing you will heap burning coals on his head." Do not be overcome by evil, but overcome evil with good.
Romans 13:1–4:
Let every person be subject to the governing authorities. For there is no authority except from God, and those that exist have been instituted by God. Therefore whoever resists the authorities resists what God has appointed, and those who resist will incur judgment. For rulers are not a terror to good conduct, but to bad. Would you have no fear of the one who is in authority? Then do what is good, and you will receive his approval, for he is God's servant for your good. But if you do wrong, be afraid, for he does not bear the sword in vain. For he is the servant of God, an avenger who carries out God's wrath on the wrongdoer.
To be sure there are ambiguities in the way Christian mercy and civic justice intersect. But neither can be absorbed into the other. Any exaltation, or Christianization, of the sword that silences Romans 12:19–20 has lost its way.
For example, any claim that in a democracy the citizens are the government, and therefore may assume the role of the sword-bearing ruler in Romans 13, is elevating political extrapolation over biblical revelation. When Paul says, "The ruler does not bear the sword in vain" (Romans 13:4), he does not mean that Christians citizens should all carry swords so the enemy doesn't get any bright ideas.