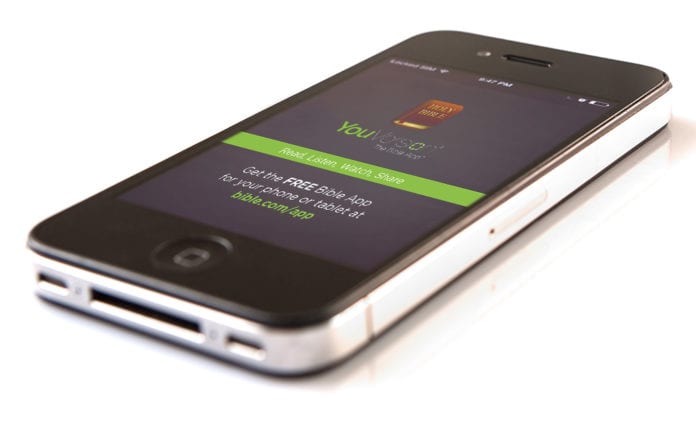 YouVersion data showed a 27 percent increase in daily active users compared to 2017.
The YouVersion Bible App, which has been installed on more than 350 million devices worldwide, has announced the most shared, bookmarked and highlighted verse by YouVersion community members in 2018:
"Don't be afraid, for I am with you. Don't be discouraged, for I am your God. I will strengthen you and help you. I will hold you up with my victorious right hand." (Isa. 41:10)
"This year's data shows people worldwide are continuing to turn to the Bible in search of comfort, encouragement and hope," says Bobby Gruenewald, innovation leader for Life.Church and YouVersion founder.
With more than 1,800 versions in more than 1,250 languages, Bible reading in the app is on the rise across several continents. With the addition of a new Japanese Bible version within the app, Bible engagement in Japan saw year-over-year growth of 104 percent. Additionally, Bible engagement in Eastern Europe is growing quickly with Romania seeing an increase of 100 percent. In South America, Chile and Argentina are the fastest growing countries with 79 percent and 60 percent growth in Bible engagement, respectively.
Bible engagement reached new heights in 2018 as YouVersion data showed a 27 percent increase in daily active users compared to 2017. In fact, the YouVersion community listened to 4.2 billion chapters and read more than 27.2 billion chapters of the Bible this year, which is a year-over-year increase of 40 percent and 62 percent.
Additionally, the YouVersion community has been taking advantage of habit formation features like Bible Plans, which help users develop the discipline of daily Scripture reading. This year, users completed more than 950 million Bible Plan days, a 59 percent increase compared to 2017. Contributing to this increase is the addition of more than 1,800 Bible plans this year, 34 percent of which are in non-English languages.
Throughout 2018, the YouVersion community also took advantage of social sharing features to share a record-breaking 409 million Bible verses, including text and Verse Images. To further this momentum, YouVersion launched Bible Lens in August as a new way to help people see how the Bible intersects with their daily lives. Bible Lens is a free app that matches relevant Bible verses with a person's photos and automatically creates visually appealing, sharable artwork.
For more information about the YouVersion community's Bible engagement in 2018, visit Share.Bible.com/2018.