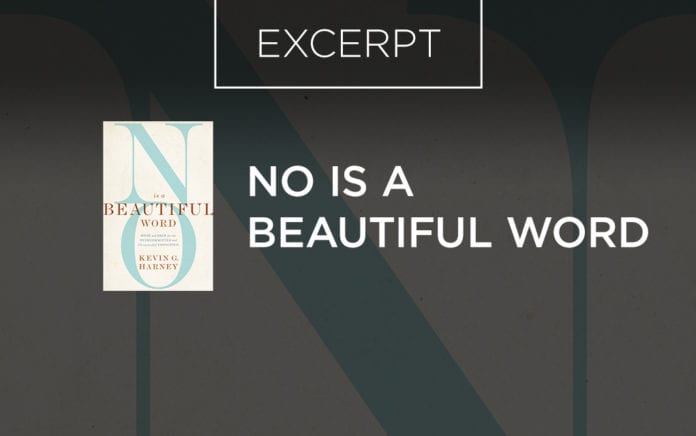 There came a point when I had to say no more to further formal education.
Excerpted From
No Is a Beautiful Word
By Kevin Harney
"No more, please!"
Though I love a good meal, there are times when I've been a guest at dinner and had to refuse a second or third helping. I've eaten my fill and can't fit in another bite! Or I know I should not.
There are times when we must say no, not because we do not enjoy something or cannot be involved, but because there is the risk of excess, of doing too much. This no is about having the wisdom to know when agreeing to or continuing to do something would be counterproductive, unnecessary or inordinate. When you identify these situations, you can wisely and preemptively declare, "No more!"
In these moments, it is always necessary to speak these words to yourself. Often, we will also need to speak them to other people as well.
I began attending school when I was four years old, and I continued formal studies through high school, college, and graduate school, earning a master's degree and a doctorate. Through several of those years, I worked to pay for my studies and to put food on the table. My doctoral work was exactly what I needed to advance my learning, and it drove me to pursue new opportunities. When I finished my degree, I said to my wife (and to myself), "No more formal education."
Since that time, I have had many people encourage me to consider an additional doctorate, one that would open the door for me to teach in an academy. These encouragements tend to come from people who live and work in academic settings and feel a Ph.D. is the pinnacle of education—the key that opens all other doors. Every time someone tries to sell me on this idea, I gently let him or her know that I've decided to conclude my formal education. I've said, "No more," and I'm sticking with that no.
Still, no matter how clear I am, some people keep pushing me. They try to build a case for why they think I should change course and go back to school. I explain that I've not stopped learning, and am always engaged in a self-designed study program, one that has no tuition and is focused on the topics I need.
Some of these friends may never understand why I refuse their advice. But there are times when I must say, "No more," and stick to it. I know it is the right decision for me, and I don't have to think twice about it. It's an automatic no.
We have one life to live, and we can't do it all. When you say yes to something, you are saying no to something else. You are the one responsible for saying, "No more," for your life.
Are there things you are doing that are no longer necessary? Are you feeling pressure from someone you respect and care about, but you know that what they want you to do is not something you need in your life? Have you maxed out in a specific area, but you just keeping taking on more and more?
Identify your "No More" situations. Declare them. Stick to them. Say, "No more!"
Tell me more about this book »
Order this book from Amazon.com »
Read an interview with Kevin Harney »
Excerpted from No Is a Beautiful Word by Kevin Harney. Copyright © 2019 by Kevin G. Harney. Used by permission of Zondervan. Zondervan.com.