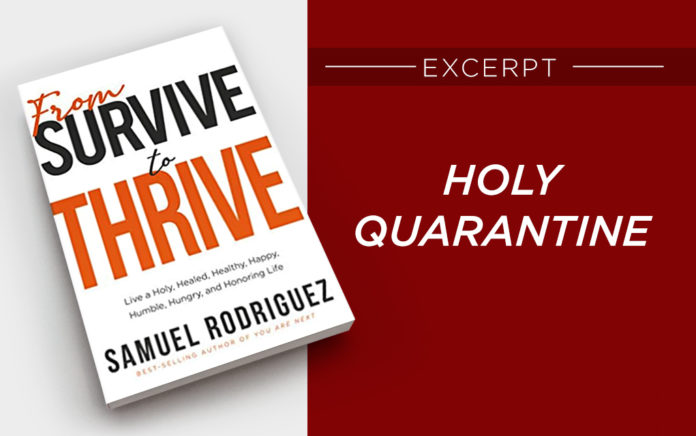 God is using our time behind closed doors.
Excerpted From
From Survive to Thrive
By Samuel Rodriguez
The spread of the COVID-19 virus required all of us to be quarantined. This global pandemic necessitated all of us to live, at least for a season, behind closed doors. Removed from the rest of society, including our extended families, friends and communities, we isolated ourselves to stop the transmission of the deadly disease. This way, those who had the virus but were asymptomatic would not unknowingly pass it on to others equally unaware. Healthy people would also remain virus-free without human interaction in gathering places and hot spots where COVID-19 seemed especially active and deadly.
"Sheltering in place" became a ubiquitous phrase catapulted into mainstream usage. While it does not convey the stringent, clinical boundaries carried by the word quarantine, I suspect its impact was similar nonetheless. People were separated for their own protection and the well-being of the population at large.
This commonsense concept dates back centuries. When the bubonic plague swept through Europe during the 14th century, Italian officials controlling port cities passed laws requiring sailors to endure a 30-day period of isolation without symptoms before they entered the city. Known as trentino, from the Italian word for 30, this sequestering prevented local visitors from boarding the ships as well. As this practice began to yield positive results and impede the contagion of the Black Death, as it was known, other cities and communities adopted it as well. Somewhere along the way the period of isolation was extended to 40 days, perhaps just to be on the safe side, which was called quarantine, the genesis of our word quarantine.
During the novel coronavirus pandemic, our isolation forced us to alter every aspect of our lifestyle: working, shopping, meeting, eating, worshipping and communicating. Graduates from the class of 2020 accepted the reality of virtual commencement ceremonies, unable to congregate and celebrate with classmates and faculty, family and friends. Survivors of loved ones who succumbed to the virus or other fatal agents grieved alone, compounding the sorrowful knowledge that so many people passed from this life alone as well.
For the rest of us in between such bittersweet milestones, each day seemed to flow into another with little distinction from weekdays to weekends. We stocked up on groceries, ordered household goods online, hoarded toilet paper and Zoomed from home to attend work meetings and to see loved ones across the miles. We relied on social media more than ever to stay connected even as we often felt more isolated than ever before. We worshipped together online or sat in our cars in church parking lots and participated like viewers at drive-in movies, tuning in to praise music, testimonies, teaching and preaching.
While we adapted, it was rarely easy. Many of us felt restricted, confined, caged by forces beyond our control, which made us automatically focus on only negative aspects of this quarantine. Only as busy schedules were reduced to more manageable speeds and overwhelming to-do lists became whittled down to essentials did we begin to see the benefits of such limitations. Suddenly we had more face-to-face time with our families as events, meetings, classes, sports and concerts were cancelled or postponed indefinitely.
As the winter weeks of gray melted into the mild blue skies of spring, we ventured outdoors for walks, bike rides, reading on the porch or playing with our children. Our priorities were reordered for us whether we liked it or not. Left to focus singularly on taking care of ourselves, our families and each other, we looked for silver linings beyond the enforced restrictions.
What we found was a sense of holy quarantine.
BEHIND CLOSED DOORS
Prior to the pandemic we used to hear much about open doors. Churches looked for ways to open doors for ministry, while businesses and schools implemented open-door policies. People would say, "I'm waiting for a door to open before I step out in faith. I know God's going to suddenly open doors in my favor. And once that door swings open, then I'll walk through it."
There's nothing wrong with this attitude. Most of the time, at least prior to the coronavirus, open doors signified a welcoming stance, an invitation of inclusivity, and a willingness to expand borders and boundaries. But when we limit ourselves to open doors, we overlook the opportunities afforded by being set apart. Relying on open doors, we minimize the beauty and blessing of what takes place behind closed doors.
Even the phrase behind closed doors often has an ominous ring to it. Private meetings take place behind closed doors along with sketchy deals and illicit relationships. Personal conversations are kept behind closed doors when speakers want to protect their privacy and confidentiality. There's an assumed sense of enclosure and intimacy, exclusivity and separation, protection from prying eyes and listening ears.
We need not assume conspiracies, shady business dealings and unethical practices are synonymous with behind closed doors, because sometimes we need the solitude, sanctuary and stillness closed doors provide. "Be still, and know that I am God," the Bible tells us (Ps. 46:10). Miraculous, transformative and holy things often take place behind closed doors. Only in the quiet tranquility of resting in the arms of God can we discover the depths of his love for us. Only behind closed doors can we experience the soothing balm of peace afforded by the Spirit's embrace.
Now more than ever we long for the security, assurance and peace that passes understanding as we endure the ongoing shock waves of the pandemic and its economic and social trauma. Most of us have found our faith stretched and tested like never before. We want to trust God but find ourselves tempted by despair as the world we have known crumbles before our eyes. Anxiety and depression, already rampant in our chaotic world before the coronavirus, became twin children of the pandemic forever tugging at our minds, hearts and souls. Without the support of others, the encouragement of community, and the fellowship of our churches, we faced epidemic loneliness, our suffering compounded by our isolation.
When we have nowhere left to turn, however, we discover an awareness of God's presence in our midst. He has been there all along, but in the hectic pace of our busy, distracted lives we often overlooked him. Sequestered and quarantined by the pandemic, we now have fewer distractions and obstacles impeding our need. We have never been in control of our lives, but it took recent events to shatter our illusion that we are self-sufficient.
In the midst of such vulnerability, desperation and unvarnished need we realize that God has a gift for us behind closed doors. Don't believe me? You will recall that after his resurrection, Jesus appeared to his disciples not before an open door but behind a closed door:
"That evening, the disciples gathered together. And because they were afraid of reprisals from the Jewish leaders, they had locked the doors to the place where they met. But suddenly Jesus appeared among them and said, 'Peace to you!'" —John 20:19
We quarantined ourselves in order to survive.
But God set us apart so we can thrive!
Tell me more about this book »
Order this book from Amazon.com »
Excerpted from From Survive to Thrive by Samuel Rodriguez (Charisma House). Copyright 2020. Used by permission.