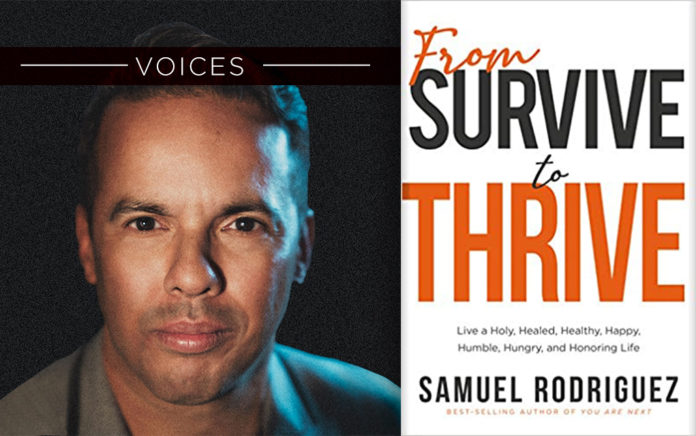 Live a Holy, Healed, Healthy, Happy, Humble, Hungry, and Honoring Life (Charisma House)
A CONVERSATION WITH SAMUEL M. RODRIGUEZ
How did you land on the seven biblical principles you discuss in your book From Survive to Thrive?
These principles emerged through my 30 years of ministry experience. Over the years, I discovered a biblical prescription—better yet, a formula—that equips each and every one of us with the necessary acumen and anointing to avoid failure, prevent perpetual "survival mode" and thrive in the advancement of the Lamb's agenda. That formula is what From Survive to Thrive is all about.
How could a church leader use this book to help his congregation in their walk with Christ?
This book equips church leaders to remove the proverbial lid while simultaneously inspiring, informing and imparting Bible-based principles. My hope is this book will enable every leader to live a holy, healed, healthy, happy, humble, hungry, honoring life. With that life, leaders will change the world for the glory of Jesus.
What advice do you have for a pastor whose church has declined during 2020?
Prepare for the upcoming harvest. This year and this pandemic will pass. The question is whether or not we took advantage of this season, permitting the Holy Spirit to prune and purge our lives, ministries, ideologies, operating systems and the proverbial organizational wineskin. At the end of the day, there are promises in Scripture that cannot and will not be denied such as Galatians 6:9, "Do not grow tired of doing the right thing. In the right season you will reap a harvest of blessings if you do not give up."
What are a few ways the church can thrive in 2021?
Every church needs to engage a biblically substantiated rubric that guarantees a it will thrive. The rubric is: repentance, revival, restoration and reformation. If churches abide by these, it will lead to an unprecedented harvest. If a church repents in the spirit of 2 Chronicles 7:14, then revival will take place which leads to the restoration of lives, marriages, and communities, activating cultural reformers that will reap a harvest of souls like we have not seen in our generation.
Order this book from Amazon.com »
Read an excerpt from this book »