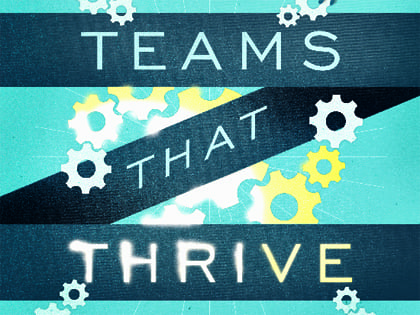 Ryan T. Hartwig and Warren Bird: Five Disciplines of Collaborative Church Leadership
Resource of the Year: Leadership
Teams That Thrive: Five Disciplines of Collaborative Church Leadership
By Ryan T. Hartwig and Warren Bird (IVP)
The development of a true team is arguably the single most important leadership strategy today. This summary of the five crucial disciplines of collaborative church leadership is the result of an extensive diagnostic survey sponsored by Leadership Network … but it is more than a survey. Acknowledging that every church context is unique, Ryan and Warren clearly explain each discipline and how they are accomplished. Commentary from a recognized expert or veteran leader validates insights and provides further tips for implementation.
So many leaders don't know the difference between a true team and a task group or management committee. Many who do, still don't know how to create or sustain it. Starting with a reality test of your current leadership effectiveness, take your church staff to a new level of spiritual maturity, mutual support, energized action and high accountability.
Is it worth the read? I recommend you read the last two chapters first. Their insights into the six ways churches sabotage leadership teams, and their eye-opening promise that you can catalyze your team's growth in any context should be motivation enough.
Also Recommended:
The Vulnerable Pastor: How Human Limitations Empower Our Ministry
By Mandy Smith (IVP)
A minister is a work in process … or more exactly, a work in God's process. That is the point, and explanation, that Mandy Smith offers in The Vulnerable Pastor. That we should be vulnerable with God is not news. The bigger challenge is for leaders to be vulnerable at work, with colleagues; at home, with family; even with the public outside.
Clergy are caught between the unrealistic expectations of church members and the superhero role models of "successful" colleagues. This is a book for the 80+ percent of clergy striving to be healthy and faithful at the same time. There is great advice here about living within your limitations, serving within your means and risking beyond your imagination.
EVALUATED BY TOM BANDY, an internationally recognized consultant, conference speaker and leadership coach for Christian organizations and faith-based nonprofits. He works across the spectrum of Christian traditions and cultural diversity, and is the author of numerous books on church growth, spiritual life, postmodern mission and the theology of culture. His most recent focus is on ministry applications of demographic and lifestyle segment research. Tom is the director of Thriving Church Consulting, and can be found in his virtual office at ThrivingChurch.com.
« Church                                                                                                     Culture »