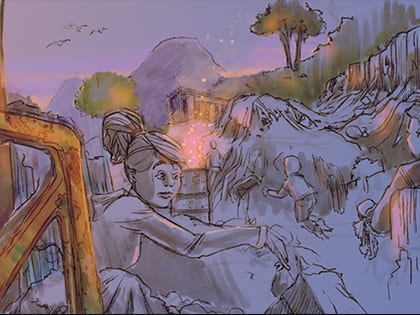 Children's Hunger Fund brings donors face-to-face with the realities of global poverty through The Poverty Encounter.
When I first heard what Children's Hunger Fund (CHF), a Christian nonprofit in California, wanted to accomplish by creating a fully-immersive experience that would bring visitors face-to-face with the reality of poverty, I was more than a little excited.
For several years, thousands of school children and families have volunteered at the organization's distribution center by boxing food to be distributed to families in need. Although this was a positive experience, CHF leaders wondered if there was a way to enhance it by making it transformational. Rather than watching a boring safety training video before entering the warehouse, what if the first act actually immersed volunteers and guests into an eye-opening, gut-wrenching global journey of insight and empathy? They called it The Poverty Encounter, an educational, poverty-themed exhibit in development for the charity's volunteers and donors.
"We called it the 'anti-Epcot,'" says Freddy Martin, former CHF marketing director, "Epcot at Walt Disney World in Florida showcases the very best that countries around the world have to offer. The Poverty Encounter, on the other hand, would bring to life the dim reality of extreme poverty that doesn't make it onto the postcards."
The ambitious idea was one of the most outrageous and compelling I'd ever heard. They wanted to build a walk-through attraction recreating the experience of visiting impoverished communities and telling the true stories of the suffering children who live there.
"We'd often take a handful of donors on vision trips to see our international operations firsthand," Martin says. "And those people come back with a renewed passion for serving hungry children. But there's no way to give that same experience to every one of our 20,000 volunteers and donors."
So the folks at CHF set about fundraising and seeking partners to help make The Poverty Encounter a reality. That's about the time we met.
Following a Blue Sky meeting at Walt Disney Imagineering's headquarters, I was thrilled to be invited to lead the development of an experiential sequence of encounters around the key objectives that CHF felt were important for telling its story well.
• Real-Life Situations. CHF was determined to depict situations that truly reflect the heart-wrenching circumstances children face every day, such as the garbage dumps of Guatemala, displaced peoples camps in Southeast Asia or the brickyards of Nepal.
• Believable. Recognizing that the exhibit's impact would hinge on believability, CHF pushed for the highest standard of realism built into the scenes. They wanted Disney-level immersion from authentic materials to sound effects and smells.
• Solutions. CHF also desired to depict the hope that is possible when God's people step in and do something about suffering. Visitors would see how food and other resources provided through local churches create opportunities for salvation and hope despite circumstances.
My teams of architects, artists and artisans were thrilled to join CHF in using Spatial Storytelling to express such an important mission. Where else would we be asked to participate in a project that would have both global and eternal impact?
Hand-in-hand with the CHF team, we created realistic set designs, mind-blowing special effects and an emotionally captivating storyline that would carry throughout the entire exhibit.
I don't want to give away any spoilers, but let me just say that visitors will be taken aback by what they learn about poverty and inspired by what the experience motivates them to do. The experience ends with an exit, not into a gift shop, but into CHF's volunteer warehouse where visitors are invited to make a difference by taking immediate action building food boxes for families in need.
The Poverty Encounter is due to open at the Children's Hunger Fund global distribution center in Los Angeles in 2018.
Mel McGowan, an Outreach magazine contributing editor, co-founded Visioneering Studios and PlainJoe Studios, where he now serves as chief creative principal. PlainJoe Studios, is a multidisciplinary design firm focused on storytelling from branding to building. Mel also serves as chief creative officer for Storyland Studios, giving leadership to its multidisciplinary Spatial Storytelling practice.