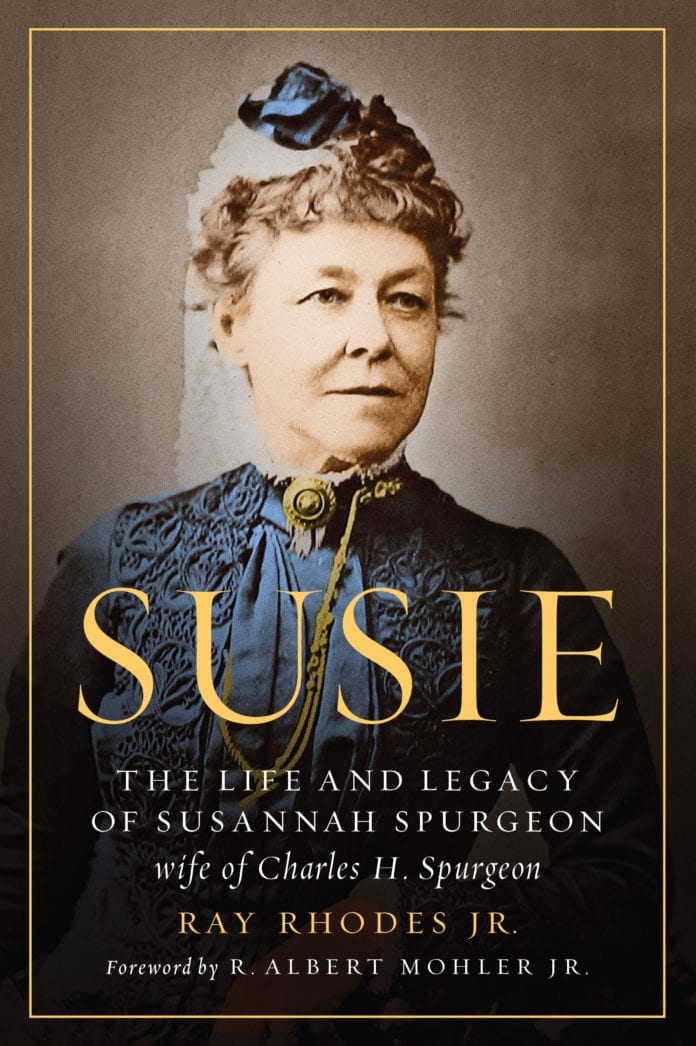 Ray Rhodes Jr.: The Life and Legacy of Susannah Spurgeon, Wife of Charles H. Spurgeon
Susie
The Life and Legacy of Susannah Spurgeon, Wife of Charles H. Spurgeon
(Moody, 2018)
WHO: Ray Rhodes Jr. , founding pastor of Grace Community Church of Dawsonville, Georgia, and president of Nourished in the Word.
HE SAYS: "If Susie Spurgeon remained faithful to God, even beneath the presses of affliction, and instead of complaining served God, then by God's grace, we can also."
THE BIG IDEA: This biography introduces the ministry of Susannah Spurgeon, and in doing so, helps readers know a different side of Charles Spurgeon.
THE PROGRESSION: Complete with color photos and a timeline, this biography starts with her childhood and details her life story and the important role she played in her husband's ministry.
"Her greatest legacy is her ministry to and love for her beloved husband and her advocacy of his writings and ministry."
A CONVERSATION WITH RAY RHODES
What lessons from Susannah Spurgeon's life can we benefit from today?
Sacrifice. Susie joyfully determined to help and not to hinder her husband Charles in his calling. In the early days of their marriage, Charles and Susie sacrificed money and time to help train up ministers. Susie also gave up personal time with Charles as a means of supporting him in ministry and, later, to bolster his often sickly condition (he regularly travelled to a warmer climate for his health). Though Susie's commitment was challenging (especially due to her own poor health), she supported her husband, no matter what.
Marital Love. Susie enjoyed a happy marriage with her famous husband Charles Spurgeon. Her love for Charles was not simply dutiful, but she delighted in praying for him, reading to him, walking hand-in-hand with him and writing love letters to him. Susie laughed with Charles, comforted him and never got over the wonder of being Mrs. Spurgeon.
Perseverance and Service in Trial. Susie's pain was pronounced. Along with her physical pain, she and Charles experienced hardships of various sorts, including the death of two of their young grandchildren. The temptation to give up never conquered Susie. Instead, she determined to do what she could do with her life for as long as she could. Through "many dangers toils and snares" she ministered to her husband, led a book fund through which she gave away 200,000 books before she died, authored five stand-alone books, co-edited and contributed to C.H. Spurgeon's biography and planted a church. Though it would have been justifiable had Susie embraced a more passive life, she looked to Christ, immersed herself in the Bible and served God faithfully.
How would you sum up the legacy she left?
Susie's greatest legacy is her investment in Charles Spurgeon's ministry. We would not have the Charles Spurgeon that we have today without the wife that he had. When Charles died in 1892, Susie devoted the rest of her life to promoting his legacy by supporting the translation and distribution of his sermons around the world and by maintaining his legacy at home by her support of his church, the Metropolitan Tabernacle, and its institutions. The next time you pick up Morning and Evening or any other Spurgeon book, take a moment to thank God for Mrs. Spurgeon. She is largely responsible for the longevity of Charles' writings that fills shelves in bookstores today.
How do you see this book being used in a church setting?
Susie: The Life and Legacy of Susannah Spurgeon is already being employed in women's Bible study groups. Reading Susie provides ladies with a historical role model from a fellow Christian who served God well. Susie followed Jesus. She read the Bible through each year and she meditated on the Scripture that she read. Susie was a role model in her service to and faith in God through her suffering that was directly related to her womanhood. She knew the grief of the loss of friends and family to death. She experienced eleven years as a widow-and served God during that season of her life. These and other life-lessons are worthy of imitation by godly women today.
Susie is a great resource for married couples. The book displays the beautiful marriage of Charles and Susannah Spurgeon. Susie illustrates principles of communication, an example of faithfulness to one another in suffering and a picture of partnership in ministry. Susie is ripe with wisdom on suffering in marriage, parenting, joy and never losing the wonder and happiness of married life.
Susie is an excellent resource for encouraging church development and health. Susie believed that as the pastor goes, so goes the church. She was concerned that when a pastor lacked sufficient funds to pay his bills, care for his ailing children, purchase necessary clothes for his wife and buy himself books to assist him in understanding and preaching the Bible that the church suffered. For Susie a healthy church was a Bible preaching congregation that emphasized the gospel and that loved and ministered to their pastor.
Susie is a helpful book for men. Charles Spurgeon's love for Susie is highlighted in his care for her in her affliction, in his provision of help that she needed, in his writing to her letters every day that he traveled and by his support of her in her ministry. Spurgeon's love and concern for Susie drove him to pray for her and encourage her in things small and great. Though in Victorian culture, some women lived beneath the thumb of their husbands, Charles is a welcome contrast of love, devotion, support and respect for his dear "wifey," Susie.
Order this book from Amazon.com »
Read an excerpt from this book »