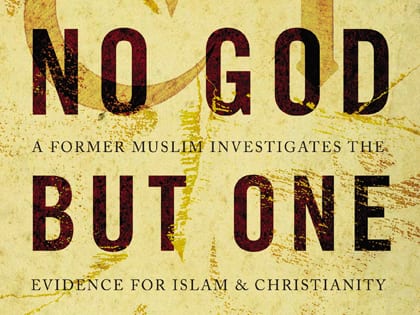 Nabeel Qureshi: Allah or Jesus? A Former Muslim Investigates the Evidence for Islam and Christianity
Resource of the Year: Apologetics

No God But One: Allah or Jesus? A Former Muslim Investigates the Evidence for Islam and Christianity
By Nabeel Qureshi (Zondervan)
Outreach indeed! We need to reach out to the Muslim community, and Nabeel Qureshi's No God But One will help Christians do just that. Qureshi compares and contrasts the various teachings of Islam and Christianity, examining the arguments both use to support their teachings—but then, in an irenic, clearheaded style demonstrates that Islamic arguments can't stand against Christianity because Christianity is true.
This book will enable Christians to talk intelligently and respectably with Muslims and would also be a great gift for open-minded Muslims.
Read an excerpt: "Do Muslims and Christians Worship the Same God?"
EVALUATED BY CLAY JONES, associate professor in the Master of Arts in Christian Apologetics program at Biola University, the chairman of the board of Ratio Christi and contributing writer for the Christian Research Journal.
This Year's Categories:
EVANGELISM
CHURCH
LEADERSHIP
CROSS-CULTURAL
SOCIAL JUSTICE
APOLOGETICS
CULTURE
DISCIPLESHIP
COUNSELING AND RELATIONSHIPS
CHRISTIAN LIVING
CHILDREN
YOUTH