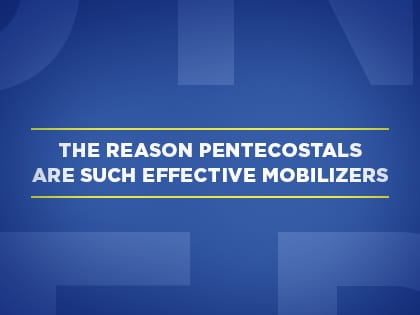 J.D. Greear: Pentecostal Christians more effectively mobilize people for mission than any other group on the planet. Why is that?
Jesus, Continued … Why the Spirit Inside You Is Better Than Jesus Beside You
By J.D. Greear (Zondervan, 2014)
A 2015 OUTREACH RESOURCE OF THE YEAR
Category: Devotional
I recently learned that Pentecostal Christians more effectively mobilize people for mission than any other group on the planet. They produce more missionaries, by percentage, than anyone else! Yet, very few of the "famous" missions speakers are Pentecostals. The most sought-after missions speakers seem to be experts at hammering home the worldwide need, leaving listeners with a deep sense of the weightiness and urgency of the task. We need to hear that. But Pentecostal missions speakers tend to focus on what the Spirit of God has gifted and is calling you to do. In addition to directing our attention outward, to the enormity of the task, they direct it inward, to the empowerment of the Spirit. "I may not be able to do everything," the hearer realizes, "but God is sending me to that person, to that unreached people group."
Again, both emphases are crucial. We need to understand that more than 6,600 unchurched people groups exist around the world, consisting of people just like us—created in the image of God—for whom going to hell will be every bit the tragedy that it would be for one of our own children. We need to understand that 100,000 children died just last week of preventable, hunger-related diseases. Our hearts need to break over those things and we need to look to heaven and say, "Please, Lord! Here am I! Send me!"
But we also need to remember that God has no need of our help. We need to offer our lives to him because the gospel demands it, not because he needs it. And then we need to look inward to discover where and how the Spirit of God has called us specifically to help. Instead of being guilt-driven, we need to become grace-driven and gift-driven.
The burden of the Christian mission is heavy—we are, after all, trying to bring life to a broken world underneath the condemnation of death—but even a Herculean burden is "easy" when it sits upon the shoulders of the infinitely strong Savior with whom we are co-yoked (Matt. 11:30). Engaging in the mission of God is not just about asking, "What would Jesus do?" but also, "What does Jesus want to do through me?"
Those Are My Four Children
I have a friend, Tony, who has adopted five kids, four from Ukraine and one from Kenya (and he says you have no trouble telling which ones are which!). The four from Ukraine he adopted at once. When I asked how he came to that, he replied that one summer he and his wife set out to study the book of Romans together. They felt struck by Paul's admonition that those who know the gospel should become like the gospel. The more he learned about his own salvation, he said, the more he longed for a way to respond to Jesus for his great grace.
But how should they do this? As Tony and his wife prayed through that question, he came to Paul's teaching in Ephesians 1:5 that God has adopted all believers into his family; then he read Paul's command in Ephesians 5:1 for believers to imitate their God. "What better way to put the gospel on display," Tony thought, "than to adopt an unwanted child?"
Tony asked God for the opportunity to do just that, and did God ever open that door! Tony went on a mission trip to Ukraine. While there, the orphanage director told Tony that someone had just brought in a set of four siblings. The kids, ages two through eight, were about to be split up and placed in orphanages around the county … unless someone came forward to take all four. When a worker brought the kids out to Tony, he saw four scared little children, all holding hands. They thought they were being called in for discipline. In that moment, Tony knew the Spirit of God had answered his prayer. "Those are your kids," the Spirit said.
"I know I can't take care of all the orphans in the world," Tony said. "But God told me to take care of these four. I know adoption is not God's will for every family. But it was clear it was the Spirit's direction for us. We wanted to respond to the gospel, and this is the way the Holy Spirit directed us to do that. We didn't adopted because we couldn't have children; we did it because this is the way the Spirit of God directed us to respond to the gospel."
The Spirit's leadership in our lives begins with a desire to pour out your life for his kingdom and a willingness to do whatever he says.
Is your heart ready to be led?
Taken from Jesus, Continued by J.D. Greear. Copyright © 2014 by J.D. Greear. Used by permission of Zondervan. Zondervan.com
Order this book from Amazon.com »