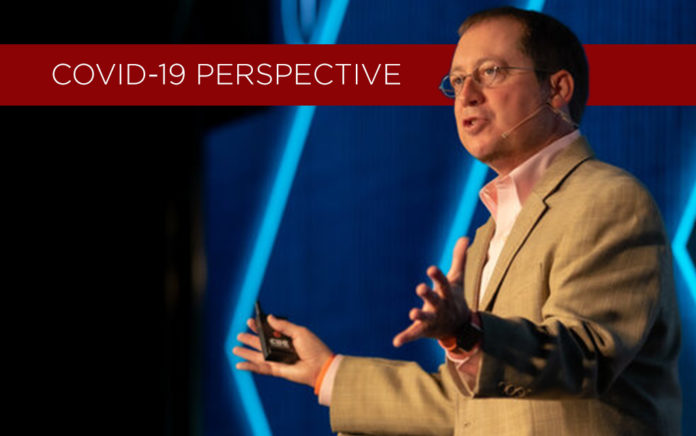 Five steps for processing the current challenges
COVID-19 PERSPECTIVE: Chip Bennett
Grace Community Church, Sarasota, Florida
As a fellow pastor in the trenches with you, here's how I'm processing the current challenges.
1. Prioritize.
The first thing you will probably do, as I did too, is start to look inward. How will we get thought this? Will anyone give? What do I need to do to weather the storm? Just as a note: We just ended a building renovation for $1.4 million and are in the process of building a $10 million new building, so to say I had white knuckles when all this hit would be an understatement! These thoughts we are having about "how are we going to make it" are visceral and real, but they are really distractions. The most important thing you and I can do right now is to remember who's the church is. It isn't ours. It's Christ's! He died for the church and he loves the church more than you and I ever will. So, start with getting first things first, and say it out loud right now. "This is not my church, and these are not my people, they are the Lord's." Realizing it's his role to provide and protect the church will get us focused on the next steps we should be taking.
Take Home: Our churches never succeeded and prospered because of the people who gave, they succeeded and prospered because of God.
2. Practice Focused Listening.
We have to start and ask what are the needs in our community now and we as the church need to meet them. Not all of them. Just the ones God lays on your ministries heart. First, call and email all the people that go to your church and ask them what you can do to help them personally and have they heard of anyone that needs help? Call the local schools. Reach out to the local communities. Email the county. Call the local assisted living facilities. Reach out. If you do this God will start to show you areas where he wants to use you and your church.
Take Home: When we are doing the Father's business, he takes care of us.
3. Cast Vision.
Of all the times that we could have lived in, this is the one God put us in—and what a time it is to be God's hands and feet. Maybe you wanted to get your church mobilized. Maybe you wanted to get your church to reach out. Maybe you wanted to get people to look beyond themselves. This is your time. Email, use your sermons, use social media, and make sure during this time you get your church to see the vision that God has laid on our heart. Listen, the churches that don't seize this moment and become intentional in reaching others might not make it through this time. Lead your people, shed the weights that held you back, and find wind in your sails like you have never seen.
Take Home: An active church in the community can't help but grow and succeed.
4. Give, Give and Give Some More.
I just got off the phone with a daycare that leases property from us. They told us about their plight. They shared with us about their falling enrollment and income because of the coronavirus. They asked if we would let them forego monthly payments for 90 days and repay at a later time. What would you have done? Seriously? I said something like this to them, "Listen, you are a brother in the Lord and you do an awesome job caring for kids. We not only will forego the payments, but don't worry about repaying either. What else can we help you with?" We both cried and wept about how good the Lord is. Do we have all the money in the world? Not at all. God does. He will provide. My wife and I rejoiced that the Lord had put us in a position to do this. Learn to give and learn to help others in this time and watch God blow you away. Don't hold back. Step out of the boat.
Take Home: Generosity is the new evangelism.
5. Remember Paul Harvey.
If you are about 50 (which I am), you will probably know the name. If you're younger, look him up. He was a witty radio personality that became a household name. I have never forgotten a line he said one time, while my dad was listening to him in his car with me in it. Harvey said, "It's a good thing to know in times like these, that there have always been times like these!" Listen, everyone has had difficult days. People have struggled mightily. The point is we get to choose how we see what is going on. Personally, I see a great opportunity, where others might see obstacles. I see stepping stones, rather than stumbling blocks. People need hope right now. We have it in spades. Lift up your head and put your hand to the plow and watch God work mightily in and through you!
Take Home: We didn't get to choose where we find ourselves right now, but we do get to choose how we respond.
As a fellow pastor, I am locked arm in arm with you through this time. If we at Grace can help you and assist you during this time, please reach out to us. It would be an honor to assist.
GRACE COMMUNITY'S INITIAL RESPONSE
We are doing online church, called Homestream, since it is coming from someone's house. Makes online church feel more like where you are rather than a typical livestream.
We are offering childcare for people who need it.
We have assembled a medical team for the church and community to be able to reach out.
We are partnering with a group that feeds kids that are on school lunch.
We have let many pastors know that we will help them with online or digital services if they need it.
Our website is set up for have-a-need/fill-a-need, so we are letting our people rise up and serve those in need. This reduces the strain on the staff and raises up more leaders.
We are providing online devotionals for kids, youth and adults.
We are experimenting with drive-in church, utilizing AM/FM radio stations, in addition to Homestreaming services.
Read more COVID-19 Perspectives from pastors and church leaders.