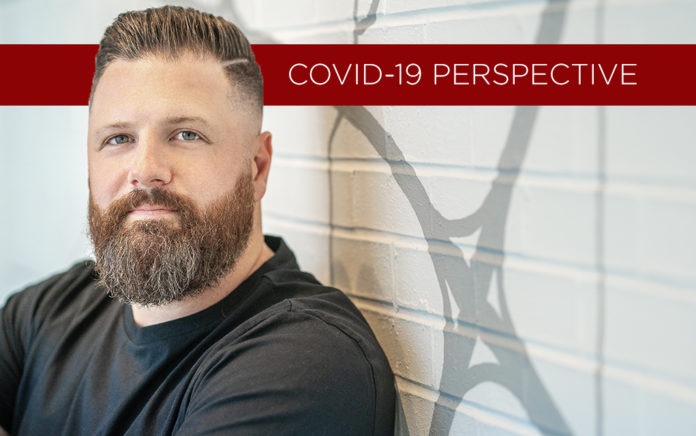 We are on the verge of our greatest day.
COVID-19 PERSPECTIVE: Chad Fisher
Rock City Church, Columbus, Ohio
There has never been a better time to be the church. The entire world is being brought to its knees. We are all suffering together, though some more than others. And with all the chaos and crazy that surrounds us (just spend five minutes watching CNN or Fox News, or even better, get your dose of crazy from Twitter). What the world is craving more than anything right now is peace. And guess what? As followers of Jesus, we not only have the opportunity to lead with calm, confidence and conviction but we have also been given everything we need to lead well and to love well in times of chaos and uncertainty.
The apostle Paul reminds us in Ephesians 4 that "to each one of us grace has been given [just] as Christ apportioned it."
What does that mean? It means that God has graced you and me for such a time as this, as carriers of the gospel of Jesus Christ, in whom the Spirit of the living God dwells, to lead with calm, confidence and conviction. We might not know what the future holds, but we absolutely know who holds the future—of that we can be sure.
From my perspective, God must be up to something incredibly significant. As he is commanding the attention of the entire world, as he is forcing the message of Jesus beyond the walls of every church and into all the world, using technology and Facebook and YouTube as conduits of hope and healing. We are on the verge of, not our worst day, but our greatest day.
Now is not the time for ministry to diminish. Now is the time for ministry to accelerate. The need is great. People are more receptive to the gospel than ever. God is expanding his kingdom and the platform of every life-giving, Spirit-filled church, and his presence is raining down on our cities like a flood.
Don't miss this moment. Don't waste your days worried and afraid. Stop spinning your wheels trying to understand everything that's happening right now, and look straight out ahead. What needs do you see? What opportunity has God placed right there in front of you? Seize it. Meet the first need that you see and then, repeat.
We are living in uncertain times, but what is absolutely certain is God's love for us, and his love for those who don't yet know him. "The Lord is not slow in keeping his promise, as some understand slowness. Instead he is patient with you, not wanting anyone to perish, but everyone to come to repentance" (2 Peter 3:9).
Let's show the world the love of God—and let's lead from a place of calm, confidence and conviction. Because God is good, and his mercy endures forever. And you have been given exactly the grace that you need to live up to the highest potential of your God-given calling, not some day, but this day.
Read more COVID-19 Perspectives from pastors and church leaders.