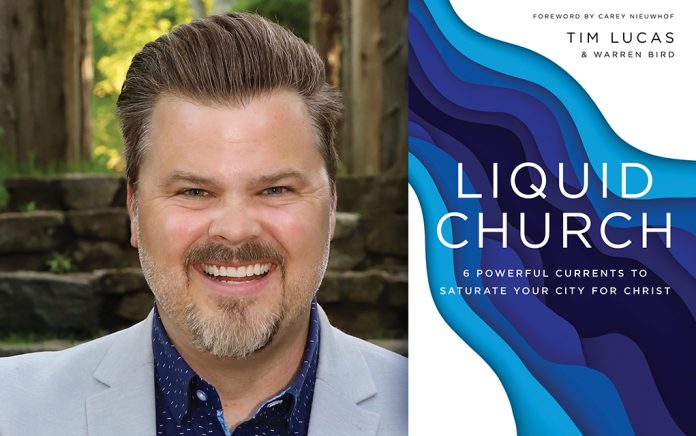 The message is the same, but the methods must change.
Almost every element of Liquid Church seems surprising, if not providential. Sure, its founding and lead pastor, Tim Lucas, and the Liquid Church staff and volunteers have worked hard since 2007 to reach their community for Christ. But Lucas never even intended to become a pastor, and now he's leading a church of seven locations with 5,000 people in weekly attendance. Plus their reach extends to almost the entire state of New Jersey and is attracting a notoriously hard-to-reach millennial and Gen Z population.
In his new book Liquid Church: 6 Powerful Currents to Saturate Your City for Christ (Zondervan), Lucas lays out what his church and others are doing to show Christlike love to their neighbors. Together with researcher Warren Bird, who contributes to the book's research and statistics, and writes the "From the Global Church" column for Outreach magazine, Lucas shares the six ministry currents that have helped his church reach its community.
Here, Lucas explains the origins of Liquid Church, how it is specifically able to reach young adults, and how it developed new outreaches.
Liquid Church is both the name of the New Jersey church you pastor and the title of your new book. What was its inspiration?
When people hear the name Liquid Church, I think they assume we're either a cult or a drinking fraternity. But we named it Liquid for a simple reason. In the gospel of John, Jesus calls himself the living water. And we believe church should be refreshing. Now, I grew up in a little bit of a dry church. I want to be respectful, because it had wonderful Bible teaching and wonderful expository preaching. If I didn't have that background, I wouldn't be a pastor today. However, by the time I was in my teens, I could fill in all the three-point sermons, knew all the acrostics. It was primarily a head knowledge of the gospel, so I kind of checked out of church.
Then I went to Wheaton College outside of Chicago. I met my wife Colleen, who did not grow up as part of the Frozen Chosen. She grew up Happy Clappy in a Pentecostal storefront church in the Bronx. The message wasn't necessarily homiletically spot-on. It was a little bit random. Their sense of timing and programming was not very disciplined. But boom! All of a sudden you have people coming in off the street receiving Christ and getting baptized that day. So at Liquid we try to take the best of both of those streams: We kind of feel Bapticostal—we're open to the Spirit, but we wear a seatbelt.
I called the book Liquid Church, but it's not just about our church. At the end of each chapter is a section called "Other Churches Making Waves." It's really important to me that folks know this isn't just descriptive of what we've seen God do here, but that these are transferrable principles to any church of any size, anywhere in North America.
How have you managed to grow a thriving, intentional ministry that's not just extending its reach to most of New Jersey but also is connecting with young adults?
We define spiritually thirsty people as those who have given up on church but haven't given up on God. Right now there's a lot of talk about the "nones." Twenty-three percent of Americans say they're none of the traditional religious categories. Millennials are seen as the ones fleeing church. But I think they're more accurately described as the "dones." They're just done with traditional churchianity. They're done with church as maybe their parents or grandparents do it. We're in a generational transition where we say, "Well, what if we found new wineskins for the gospel?"
Jesus talks about the need for new wineskins. You put the new wine of grace, of the gospel, into old wineskins, and they're going to burst. They can't hold it. That's a container problem. Now, we're closefisted about the message—the gospel never changes. But we're openhanded about our methods. We say we're going to do anything short of sin to reach people for Christ. Those are the new wineskins that I think are no longer optional to take the gospel to those who are far from God and have given up on church.
The people who are coming to our church, coming to faith in Christ, getting baptized and having a radical life transformation don't walk in and say, "Who is this Jesus you speak of?" That's just not where they're at. Typically they're a "CEO"—they go to church at Christmas (and) Easter Only. But their understanding of the gospel is completely inadequate. So we can build a bridge to them, because they're post-Christian. We don't just represent Jesus to them. We are re-presenting Jesus to people who've never heard the full gospel to begin with. They're done with church as they knew it, but they're not done with God. They're thirsty for the true gospel.
How did you develop Liquid's new wineskins?
The best ones were Spirit-inspired. It's always funny because people ask me, "You grew a church of 5,000 people in the Northeast. Tell us how to do that." They assume there's a 10-year strategic plan. And we do have value systems and strategic thinking. But the best currents that we've seen the Lord use sovereignly to reach millennials and Gen Z are those birthed through the Holy Spirit.
God uses our circumstances and our setting. For example, we happen to be in New Jersey, which has the highest rate of autism in the nation. For us, special needs ministry was a huge opportunity. All of these incredible families started coming, and then it spread by word of mouth. There was no marketing budget, no announcement from the pulpit, no special appeal. God knew special needs would be the heart of our house before we even did. So, church leaders need to ask themselves whom on the margins has God sovereignly positioned their church to reach.
In Part 2 of the interview, Tim Lucas discusses why its important to turn traditional ideas on their head, how to get more volunteers than you need and why generosity is the key to saturating a city.