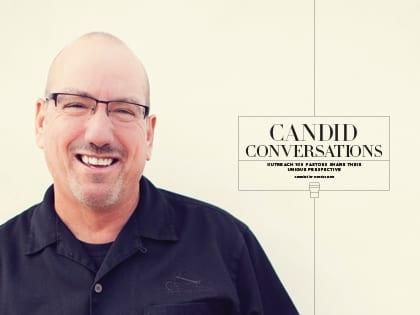 "What concerns me most for the church is the same thing that concerns me for our country: the issue of polarization."
Each year, we speak with several Outreach 100 pastors in an effort to collect their honest observations about the church, their ministries and their experiences. This year, we collected their insights on everything from personal growth and stress management to staying humble in a high-profile position—as well as their thoughts on the future of the American church.
CAL JERNIGAN
Central Christian Church in Mesa, Arizona
If I fail to grow and develop as a leader, and as a believer in Christ, my failure will most likely not become apparent to the church until after a great deal of damage has been done internally. Because of this, I have to be extremely proactive in letting people into my private world and inviting accountability.
I have learned and been sharpened by a number who have taken an interest in my life—Bill Hybels and LeRoy Lawson being two of the most instrumental. My greatest regret in the ministry is that I did not pursue this more passionately in my younger years. I have since learned that many of these leaders will give you far more of their time than you think—but you have to be willing to ask.
Leadership requires a tremendous amount of courage to do the right thing—especially when you know you're going to get ripped apart by critics if you do it. As to praise—be very slow to believe what people tell you. Things are seldom as bad as people say they are, and you are seldom as good as people think you are.
What concerns me most for the church is the same thing that concerns me for our country: the issue of polarization. What we are witnessing as a country in politics is simply unprecedented. We are divided with zero tolerance toward people with different points of view. This same sense of divisiveness is growing in prevalence in the church. I fear that our stances on issues such as homosexuality, or Islam, will literally divide the church into two camps with no interest in listening to or tolerating the other. The result of this will be increased marginalization of the church in our society, as the church can't even agree on a response. What excites me most are the possibilities that this opens up for churches who learn how to speak to this rapidly changing culture.
The way people "do church" is radically changing and will continue to change, if not accelerate. We've already seen it in the rise of the multisite church where the church goes to the people rather than expecting the people to make their way to the church. In the days ahead we will see more of this, along with the increasing popularity of online communities and microsites. As people's attention spans continue to decrease (generally), we will have to change the way in which we expect people to interact with the church and the way we present our message.
Read more Candid Conversations with Outreach 100 pastors »
CENTRAL CHRISTIAN CHURCH
Mesa, Arizona
Twitter: @CalJernigan
Website: CentralAZ.com
Founded: 1959
Affiliation: Independent Christian Churches
Locations: 5
A 2016 OUTREACH 100 CHURCH
Attendance: 9,288
Largest: 43