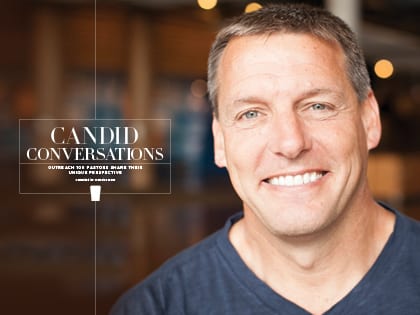 Todd Wagner: "My personal walk with Christ and with God's people is why I am not stressed."
Each year, we speak with several Outreach 100 pastors in an effort to collect their honest observations about the church, their ministries and their experiences.
TODD WAGNER
Watermark Community Church in Dallas, Texas
My personal walk with Christ and with God's people is why I am not stressed. I run with men on my staff and my fellow elders in intimacy and authenticity. They know everything about my life, and they have permission (and responsibility) to admonish me when I'm unruly, encourage me when I am faint-hearted and help me when I am weak.
My greatest influences have been people who invested in me with persistent kindness and unwavering commitment to living with excellence and radical obedience to Christ—so, everyone from the Young Life leaders and volunteers that the Lord used to bring me to faith 3½ decades ago to friends like Chuck Colson and Randy Alcorn more recently.
What I've learned about criticism and praise is that Paul (1 Corinthians 3:7, 2 Corinthians 4:5-7) and Solomon (Proverbs 27:3, 21) knew what they were talking about.
My concerns about the church? The leadership of it; the lack of courage and faithfulness in it; and the lack of wholehearted surrender to the Word of God and commitment to discipleship, which is the solution to both.
What excites me are the passionate young men and women (millennials), who are the future leadership of the church (and our country), I see pouring into Watermark each week.
I do see forms shifting with culture, but the experience of the true church has never changed. Every generation of God's elect has been a part of God's transformational presence and grace in the world and has faced trials, temptations and assaults on the truth of the gospel. It is my privilege and duty to make sure that I, and the local expression of Christ's church of which I am a part, "stand in the gap" for my generation as the faithful church has always done in theirs.
Read more Candid Conversations with Outreach 100 pastors »
WATERMARK COMMUNITY CHURCH
Dallas, Texas
Twitter: @WordsFromWags
Website: Watermark.org
Founded: 1999
Affiliation: Nondenominational
Locations: 3
A 2016 OUTREACH 100 CHURCH
Attendance: 12,106
Growth in 2015: +1,230 (11%)
Fastest-Growing: 63
Largest: 29