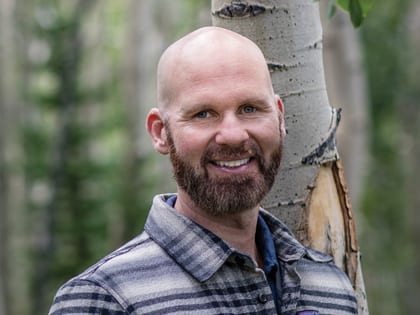 "If you can stay the course, you see the lives of people change and that changes everything in the church."
As a student ministry pastor in New Hampshire, John Van Pay pursued success. He fed an engine of programs and events, driving growth. On the side, he planted a rural church and helped lead another in the inner city.
That was until his wife, Stephanie, stood in front of him with their three small children, packed and ready to move back to Houston. John remembers the words that brought him to repentance and changed the direction of his ministry philosophy.
"She said to me, 'John, you are a great pastor; you are just not home enough to be a good father and husband. We're going back home.'"
When Van Pay and seven friends planted Gateway Fellowship in San Antonio, Texas, a short time later, he made a commitment to a specific number—but the number had nothing to do with his church plant. He vowed to be home five nights a week.
In the absence of the buzz and spectacle of events and programs, "or even great preaching," Van Pay leads the fastest-growing church in America. As reported in this year's Outreach 100 survey, Gateway Fellowship added 1,520 attendees between March 2015 and March 2016—numerical growth from 812 to 2,332, a 187-percent surge.
When Van Pay explained the remarkable growth to Outreach, he revealed how a man who once earned a D in a college speech class learned to celebrate the simplicity—and difficulty—of the ultimate mission: to love God and love others.
Tell me how Gateway Fellowship started.
On Labor Day weekend 2007, seven friends of mine gathered in our living room. We had a goal of starting 1,200 friendships with people before we ever had a service. We said we were going to build the church one relationship at a time. We were going to stop going through the drive-thru at the bank and pay-at-the-pump gas station. We were going to get to know people by name.
In fact, you collected those names, right?
As we met in that living room, we wrote down those 1,200 names on a large piece of butcher paper, and we prayed for every person. During those prayer times, God gave us a burden for our community. We would try to get together weekly with the people God brought into each of our lives. So, those were the people we invited to our opening service at an elementary school.
How critical is it to pay attention to relationships?
Let me tell you a story that might explain it best. One of those 1,200 names was Val. I met Val when we were both picking up our daughters from school and discovered we had common ground in a love for mountain biking. We struck up a friendship and shared rides together. A few months after meeting him, he told me he couldn't ride with me anymore. A nurse practitioner at a local hospital, Val had a brain tumor. When he told me, I said, "Hey Val, do you mind if I pray for you?" He said, "I'd rather you not." He told me if he ever made a decision to follow Christ, I would be the first to know.
I visited Val in the hospital while he was having a CT scan. During the scan, he had a brain seizure and never recovered. A couple of days after his death, his wife, Debra, asked me to officiate his funeral because I was the only minister they knew. She handed me a stack of journals he wrote in. The second-to-last entry disclosed his confession of faith and a metaphor of a ship coming back to a harbor. Before we ever had a worship service, we had a funeral. I shared Val's story at the funeral. Debra invited everyone who came to our church. Forty-one accepted her invitation. Eighteen of those friends surrendered their lives to Jesus at our grand opening service on Feb. 10, 2008, at Beard Elementary School. They had Val cremated and his wife gave me a vial of ashes in a necklace. Sometimes I'll wear it as a reminder that everyone in this community needs to know Christ and life is way too short. From the start, our church wanted to pursue people just like Jesus pursued us.
What was your previous relationship to the church? Did you grow up a pastor's kid?
My mom's side—parents, grandparents, great-grandparents—all were involved in church planting. God called my dad to be a church planter, so every five or six years we moved. My dad was a hard worker. He was bivocational to provide for the family. He planted churches in Texas, Wisconsin, New Hampshire, Colorado, and then back to San Antonio when I was in junior high.
Did you feel a calling to become a pastor early?
No. I am an introvert by nature. I was terrified to speak publicly. I wanted to go to college and major in business. During my senior year in high school, I heard a message by Dave Roever. His redemptive story about God using him after nearly being killed in the Vietnam War was inspirational. If God could use him, certainly he could use a shy, introverted kid like me. After hearing him, I knelt down under an oak tree where I surrendered my future to God and he called me to the ministry. It blew my mind.
An introverted pastor with a fear of public speaking—how bad did it get?
I went to Bible college. One of the classes was speech. My first speech was how to iron clothes. I brought this ironing board and a bundle, and totally messed it up. I got a D for the semester. After that experience I said, "God, are you sure you're calling me to ministry?"
And what was the answer?
I ended up with a new appreciation for Moses. When God called him, Moses had the excuse that he was a stutterer and couldn't speak. That wasn't good enough for God. God called him in spite of that. Even today, I feel like I'm not a great communicator, but the Lord, in spite of that, uses me for his best. My dependence makes it easier for God to receive the glory. I also have learned that God gives me the Holy Spirit, who creates a burden, a passion and a kingdom assignment to preach the gospel to all nations and make disciples. For the rest of my life, I would never give up on that.
How did it change your vision for ministry?
We shortly moved back to San Antonio and began to envision the Gateway Fellowship plant. I said, "What if we start a church and I make a commitment to be home five nights a week?" To be able to do that, we needed a philosophy laser-focused on making disciples. We needed to keep it real and simple.
What did you learn in the early years of the church?
When we began to grow in the elementary school, then in the movie theater, we tried to disciple new believers in the traditional, Western approach: Meet in the teacher's lounge to fill in the blank so we can tell you everything we know. Even though we were growing, we were failing miserably at making disciples.
What changed?
I was led to take a trip to Israel for the first time. One of the people I was privileged to get to know was a Bedouin shepherd. I spent time with him as he tended sheep in the desert of Jordan. In the morning, he'd inspect the lambs, take them to their mothers, and hike distances to make sure all were nourished and fed. He gave me a lamb and instructed me to provide the same kind of care. It was an epiphany for me. The Holy Spirit began to remind me of passage after passage about taking care of his lambs and shepherding the flock. As I watched the warm and nourishing milk go down the lamb's throat, I just had this picture of discipleship.
How did the church change after you returned?
I came back from that trip with a passion to make disciples just like Jesus did—relationally. I began with some leaders in our church. I felt like I needed to take some time to love them, serve them and share lots of love and laughter. After I did that for about a year, modeling it, I told them to do the same thing: Focus one-on-one with people in a small group. That began the ethos early on—very Eastern, very Christlike.
In Part 2 of the interview, John Van Pay discusses how Gateway Church's intentional focus on relational ministry and discipleship resulted in its rapid growth.