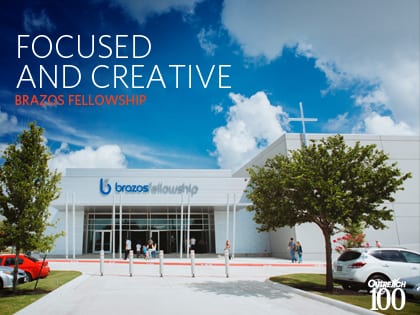 Brazos Fellowship Uses Creative Methods to Attract Newcomers During Normally Slow Season
Brazos Fellowship has used film as a vehicle to draw newcomers to church for five years. Located in College Station, Texas, the church hosts a summer sermon series called At The Movies.
During the series, Brazos screens a film but cuts the video in a way that demonstrates which plot points in the movie exhibit biblical principles.
"We've seen a number of salvations through this," reports Pastor Will Lewis.
Because Brazos is in a college town, summer attendance often drops, but with the movie series the church recently drew its biggest non-Easter attendance, according to Lewis.
"That's been a huge outreach in terms of getting unchurched people to come through the door," Lewis says. "It's one of those ongoing annual events that's been really successful. It's getting churchgoers to invite their friends."
Brazos drew inspiration from At The Movies from a couple of other Texas churches who host similar events, Lewis says. He called the tremendous response to the series "completely unheard of."
While At The Movies has attracted unprecedented summer crowds to Brazos, Lewis describes the church's growth strategy as uncomplicated. "Our people do an amazing job of really just trying to show love and acceptance to whoever comes in the door," he explains.
Brazos leaders also subscribe to the philosophy that "less is more," according to Lewis. That means remaining gospel-centric and preventing the parking lot and worship services from growing overcrowded by adding more services when needed. The church has also developed ministries for youth and college students, due to its proximity to Texas A&M University.
Because the university is in the same town as Brazos, the community surrounding the church includes diverse groups of people from a wide range of ethnic and religious backgrounds, Lewis says.
Having served as Brazos pastor for nine years, he remembers how the church began in a living room and then moved to a middle school. From there, it moved to a building that used to be a movie theater and to another that functioned as a night club.
"One of the biggest challenges is constantly trying to stay focused on helping people discover their relationship with Jesus Christ every day," says Lewis.
The church also strives to make sure its services and programs remain relevant to believers and unbelievers alike. The leaders plan activities with non-churchgoers in mind.
Although church leaders use methods to make Brazos welcoming to visitors, Lewis credits God with driving growth there.
"This is absolutely for Jesus' glory," he says. "The Lord has just done a complete miracle."
BRAZOS FELLOWSHIP
College Station, Texas
Senior Pastor: Will Lewis
Twitter: @PastorWLewis
Website: BrazosFellowship.com
Founded: 2005
Affiliation: Baptist
Locations: 1
Attendance: 1,189
Growth in 2013: +357 (43%)
Fastest Growing: 37