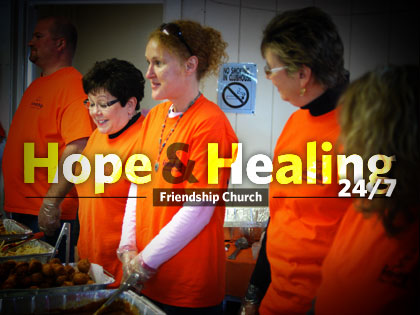 Friendship Community Church to Construct Its New Building as a Place for the Community
When Mary, a U.S. postal worker, fell on hard times, she reached out to a family on her mail route. Todd Stevens', pastor of Friendship Community Church in Mt. Juliet, Tenn., directed her to the church's food pantry.
Mary began attending church, accepted Christ and was soon baptized. She is among the church's 70 percent of regular attendees who were not active in a local church before coming to Friendship.
The food pantry is one of the church ministries that will be housed in the Impact Center, a 35,000-square-foot building on 15 acres that will serve as a one-stop community outreach center after its planned opening in 2015. The church realized it needed such a facility, and had the volunteers to pull it off, following the Nashville flood of 2010, when the community saw its needs increase greatly. But the church lacked space, as it was ministering out of a school, and it couldn't serve as much or as effectively as it wanted to, without a larger facility from which to operate.
"We have 90 percent of our regular attendance involved in regular serving opportunities," Pastor Todd Stevens says.
They'll have plenty to do when the Impact Center opens and is able to serve the community 24/7. Besides a food pantry, it will offer such services as a counseling center, marriage classes, an indoor playground, a respite ministry for parents of kids with special needs, addiction resources, financial education, parenting classes and disaster relief. It'll also serve as a new home for the church.
"When people are in need of hope and healing," Stevens says, "we want them to immediately think about the Impact Center.
"The Impact Center won't look like most church buildings, because the last thing we'd want is for someone to be intimidated or feel like they need to get cleaned up or dressed up to be here. Throughout the week, it will be a place where hope and healing can happen. This will be a place where people can take their next step forward and connect with God's love with no strings attached."
FRIENDSHIP COMMUNITY CHURCH Mt. Juliet, Tenn.
Website: FriendshipCommunityChurch.org
Lead Pastor: Todd Stevens
Founded: 2006
Affiliation: Nondenominational
Locations: 1
Attendance: 900