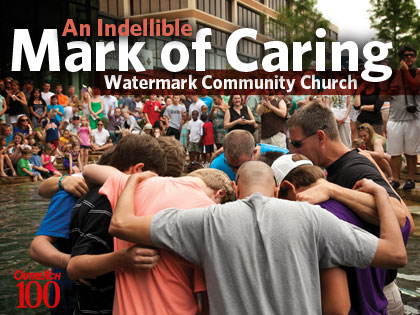 Todd Wagner: "Small-minded leaders focus on programs, and great leaders focus on values."
View the complete Fastest-Growing list >>
Watermark Community Church
A 2013 OUTREACH 100 CHURCH
#13 FASTEST-GROWING, #52 LARGEST
To describe Susan Cox's marriage three years ago as "rocky" would be putting it mildly. Both she and her husband had committed adultery, and the couple argued so heatedly sometimes that police intervened. Friends advised them to seek help from the marriage ministry of Watermark Community Church in Dallas.
Participating in the Re|Engage ministry allowed Cox to finally feel God's love. When she and her husband fought bitterly one night, Cox feared the spat would escalate. But instead of calling 911, Cox phoned the Re|Engage leaders.
"It was probably 1:30 a.m., but they drove out to our home and came into our living room and began praying with us," she recalls. "Who shows up at 1:30 in the morning in a messy marriage situation?"
This scenario demonstrates the vision of Watermark's Senior Pastor Todd Wagner: "You focus on the people." Effective leaders understand that the goal "isn't to bring people in, it's to equip them," Wagner says. The pastor cites this philosophy as one reason Watermark, founded January 2000, has become one of the country's fastest-growing churches.
Watermark started with just eight families and met in dozens of locations during its first eight years of existence, according to Wagner, founding pastor. Today Watermark sits in a facility that can house 3,500 congregants. Located in North Dallas, a racially diverse area where both the wealthy and the poor live, Wagner says Watermark doesn't focus on outreach programs alone to boost attendance.
"I would say small-minded leaders focus on programs, and great leaders focus on values," Wagner says. "If you put a bunch of programs in place and people don't understand the values … these will be very empty strategies. Some churches do the same exact program, but one church's Celebrate Recovery might have 25 people and another 500. That's because effective leaders drive church growth, not programs."
Watermark's marriage and young adult ministries have proven especially effective in driving growth. John McGee heads the marriage ministry, which, in addition to Re|Engage's 375 participants, includes pre-marital and newlywed-oriented programs. He says 40 percent of the couples who participate in the ministry aren't Watermark members or believers.
"If people feel like you care about them, they will come back," McGee says. "Everybody who walks in feels there's no agenda. Our mentor couples genuinely love and care about [the participants] even if they completely disagree with our worldview."