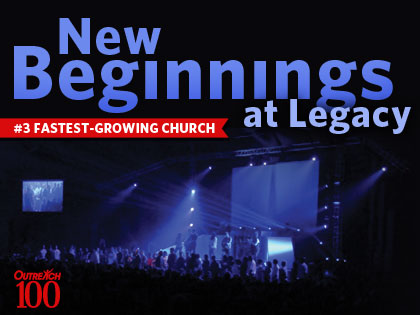 Read about what the nation's #3 Fastest-Growing Church does to reach and retain new believers, and as a result, grow the kingdom for Christ.
View the complete Fastest-Growing list >>
Legacy Church
A 2013 OUTREACH 100 CHURCH
#3 FASTEST-GROWING, #45 LARGEST
Small groups are specialized at Legacy Church. Sure, there's the typical slate of men's, women's, singles, seniors and kids meet-ups. But Legacy wants to be known as a place for healing, so the church offers specialized groups for women overcoming domestic violence, people who have lost a loved one to suicide and even those who need to help with anger management.
Another component to Legacy's freedom track is Cleansing Word, a 13-week class that teaches people to deal with their past and find answers and solace in the Lord. Hundreds graduate from each session.
"We're very proud of this ministry, which is the first leg of discipleship for new believers," says Steve Smothermon, Legacy's senior pastor.
The church also sponsors affinity groups for interests such as Mustang cars, athletics, motorcycles and learning how to adopt a Christian worldview. The diversity reflects Albuquerque's mixed demographic of urban and rural communities plus nearby Native American reservations.
"We do not shy away from sin or repentance. We focus to reach the unchurched and God has blessed that," Smothermon says.
LEGACY CHURCH Albuquerque, N.M.
Senior Pastor: Steve Smotherman
Twitter: @SteveSmothermon
Website: LegacyChurch.com
Founded: 1980
Affiliation: Nondenominational
Locations: 3
Attendance: 10,100
Growth in 2012: +3,300 (49%)