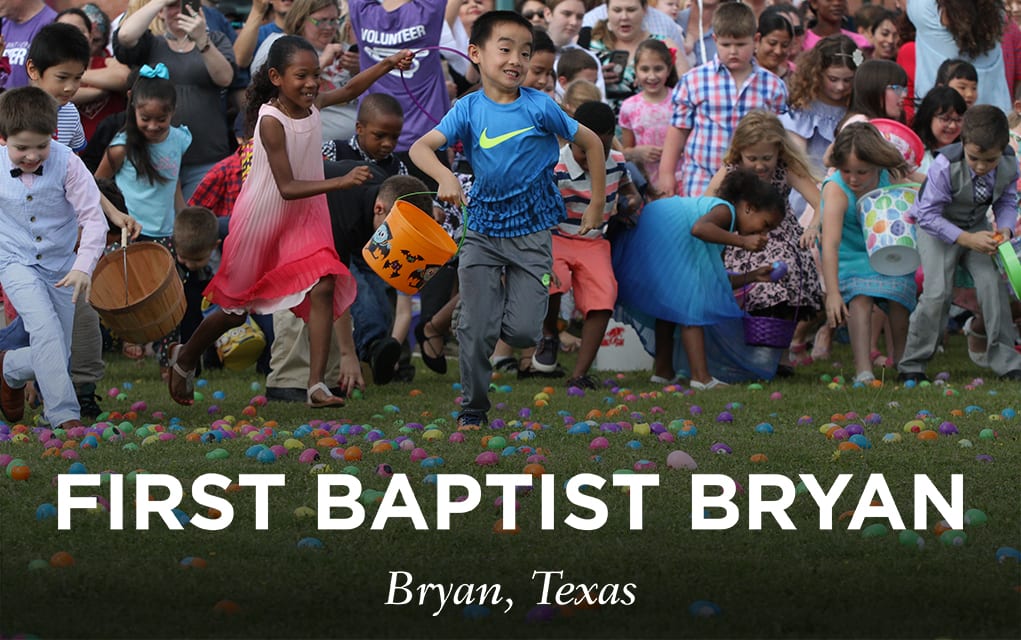 Prayer, Hard Work Generates Growth at First Baptist Bryan.
Jim Moore, a deacon and 13-year veteran at First Baptist Bryan, may not remember every time the church has helped someone, but one instance stands out. A church member recently testified to an outpouring of kindness he experienced through the church.
The man, a regular in the singles' ministry, needed to help his elderly parents move out of their home, Moore says. After sharing his dilemma with others in the ministry, several people arrived at the home and helped the man's parents over two weekends to move their furniture and belongings.
"It moved him to tears to find that there were people who really cared that much about him," says Moore, "and cared enough to help."
The singles' ministry is just one of several programs that First Baptist Bryan offers congregants to help them grow spiritually and become more active in the church.
Located in Bryan, Texas, a midsize, racially diverse city of around 84,000 that is 100 miles northwest of Houston, First Baptist Bryan is just four miles north of College Station, home to Texas A&M University's main campus.
Senior Pastor Jim Heiligman began his tenure at the church four years ago after the congregation experienced a painful split. In the early days after his arrival, he focused on helping the church move forward, which required a lot of prayer, hard decisions and additional staff. Today, the 152-year-old church is a growing, multigenerational congregation, says Heiligman, who credits the Holy Spirit for its progress.
"The Lord is doing a great work," he says.
The growth, however, took time, due in part to the members' willingness to take chances and try new things. For instance, the church added a short break between the 8:45 a.m. service and the 10 a.m. Bible study on Sundays. The idea, Moore says, was to give people time to grab a hot beverage at the church's coffee bar and fellowship with each other for 15 minutes before breaking up into their classes.
The church also took steps to transform its singles' ministry to better meet the needs of unmarried persons. Singles can meet in a small group or on Sunday mornings by attending one of the Bible study groups for singles that include ones for young professionals, single parents and older singles.
First Baptist Bryan also established a Bible study for Spanish speakers, Heiligman says, after noticing how many Spanish-speaking visitors from the community regularly attended the church's Easter Egg drop. A year ago, it evolved into an 11 a.m. Spanish language Sunday service. Today, Spanish speakers from 13 nations attend First Baptist Bryan each week, he says.
Looking back over the last four years as the pastor, Heiligman says he learned one lesson: "I have a long way to go in ministry. The Lord is still shaping and forming me."
FIRST BAPTIST BRYAN
Bryan, Texas
Lead Pastor: Jim Heiligman
Twitter: @FBCBryan
Website: FBCBryan.org
Founded: 1866
Affiliation: Southern Baptist
Locations: 1
A 2018 OUTREACH 100 CHURCH
Attendance: 1,089
Growth in 2017: +129 (13%)
Fastest-Growing: 99