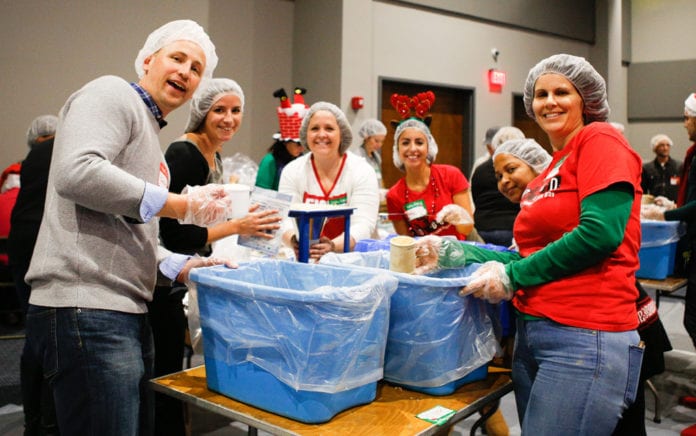 Liquid Church is partnering with Feed My Starving Children to pack meals for needy families around the world during its Christmas Outreach.
On Friday and Saturday, December 7th and 8th, Liquid Church in Parsippany, New Jersey (43rd fastest-growing church, 2018 Outreach 100) plans to pack one million MannaPacks for Feed My Starving Children as part of their annual Christmas Outreach. This is the second year that Liquid is partnering with the Christian ministry that provides individually-packaged nutritionally-complete meals for starving, malnourished and hungry people around the world.
Feed My Starving Children will set up shop at each of Liquid's six locations, and an estimated 5,700 volunteers who have signed up for 2-hour shifts will aim to pack one million meals over Friday and Saturday.
"Last year we packed 970,000 meals," Lead Pastor Tim Lucas says. "We gotta get across the goal line this year."
The idea for the Christmas Outreach began a few years ago when Liquid Church was studying Matthew 25:35, "For I was hungry and you gave me something to eat, I was thirsty and you gave me something to drink." The church's main global outreach passion has been providing clean water wells in countries like El Salvador, Nicaragua and Rwanda in partnership with Living Water International. Since Liquid was already addressing the "thirsty" half of the verse, they considered ways they could address the "hungry" half of the verse.
This is the 4th year that Liquid has been addressing the issue of global hunger and their 2nd year partnering with Feed My Starving Children according to Kristin Hosen, Liquid's outreach director.
"It's become a Christmas tradition that people put on their calendars," Hosen says. "It's a beautiful way to start the advent season, and be able to gift something to people."
Hosen says that it's a great way to serve as a family during the Christmas season. To add to the festive atmosphere, volunteers are encouraged to wear ugly sweaters and Rudolph noses. The event is also intentionally designed to be inclusive for families with special needs who are assigned a table host.
Lucas says that the Christmas Outreach has been well received by parents looking for an opportunity to combat the commercialism of the Christmas season and teach their kids about giving.
"When you spend two hours in a hairnet and you're assembling basic needs for people who don't know where lunch is coming from, it's a perspective shift," Lucas says. "Discipleship-wise this is a great corrective to the commercial spirit of Christmas."
The Christmas Outreach has also become one of the primary entry points to the church for unchurched people in its post-Christian context in the Northeast U.S.
"Serving is the new front door of evangelism with us," Lucas says. "We know people will come in and serve shoulder-to-shoulder with Christians and realize we're not wackadoodle."
Hosen says a lot of professionals from the church volunteer during the Christmas Outreach because it's an easy way to invite coworkers to skip happy hour, but still have a bonding experience while giving back.
"Outreach is the onramp for people to get involved at Liquid, because there's no strings attached. We want it to be the best volunteer experience you've ever had," Hosen says. "When you step forward with compassion everyone can get behind that."