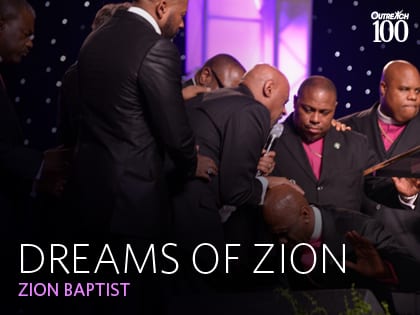 Mount Zion Baptist Church Ministers to the Community—from Students to Seniors
As a 25-year-old pastor, Bishop Joseph Walker III says he often visited local colleges to chat with students and invite them to worship at Mount Zion Baptist Church in Nashville, where the congregation had dwindled to less than 200.
"I was walking on the campus of Fisk University, and there was a student who didn't know I was a pastor," recalls Walker. "We began talking about philosophy and then church came up. I shared with him my philosophy of ministry, what I thought the church had become and why it was important to reach out to students. Well, after he found out that I was a pastor, here comes this guy to church with over 20 young people. About 16 of them joined."
Today, Walker, 47, oversees a church with thousands of members.
"As a young pastor, God gave me a niche, and that was young adults and college students," says Walker, who took the reins of the church at age 24 in 1992. "At first people laughed and said, 'You can't build a church on transients.' 'You can't build a church on young people.' But I had to tell them that these young people are going to graduate one day, and many of them have made life decisions to stay in Nashville because of church."
Besides visiting college campuses, Walker credits a strategy of moving from traditional preaching to Bible teaching and delivering up-to-date messages for attracting new members.
"It's what I like to call 'relevant' teaching and preaching," he says. "You can't have an 8-track ministry in an iPod generation. I also began to build the church on Bible study. I took the model that Jesus took. Jesus sat down and taught, and the multitudes came because he was bringing the gospel of the kingdom and new revelations that God is doing something in the earth."
Mount Zion also designed "creative, out-of-the-box" ministries, he says, after he and his team assessed the community's needs. They invited speakers like Dave Ramsey from the Financial Peace University to talk about money and debt, established a counseling program for people with depression, and a college ministry that gives students rides to church and encourages them to participate in church activities.
To address obesity, Walker and his wife, Stephaine, a physician, helped establish ChurchFIT, a Mount Zion program focused on teaching about nutrition and wellness.
"It's not even about losing weight," says Walker. "It's really about a healthy lifestyle and a healthy diet."
Founded in 1866, Mount Zion today has three locations in Nashville—Jefferson Street, Murfreesboro Road and Old Hickory Road—serving a diverse audience.
Across from the Jefferson Street facility, the church is building a Dream Center that will house a daycare, the church's K-6 school, a Christian bookstore, coffee shop, a counseling center and New Level, the church's community development corporation. "It will be one of those one-stop shops where parents can drop their kids off, work out or have a cup of coffee. It will be a place to make dreams come true," Walker says.
The Walkers balance their busy schedules while raising their 2-year-old daughter, Jovanni. Learning to delegate, he says, has been an important lesson.
"Leadership cannot be done in a silo," he says. "You have to understand delegated authority."
As the church grew, Walker says God taught him how to keep the church's older members engaged.
"The Lord revealed to me that as the church grows, you have to understand that people are grieving the loss of the church they once knew," Walker says.
So the church selected June as Seniors Month to celebrate and reflect on Mount Zion's past, he says. In August, the congregation honored one of its oldest members, who turned 104.
"They love it," says Walker. "Now feel they're a part of the growth."
MOUNT ZION BAPTIST CHURCH
Nashville, Tenn.
Senior Pastor: Joseph W. Walker III
Twitter: @JosephWalker3
Website: MtZionNashville.org
Founded: 1866
Affiliation: Baptist
Locations: 3
Attendance: 8,000
Growth in 2013: +1,000 (14%)
Fastest Growing: 44