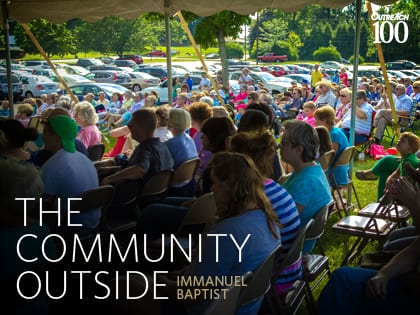 Immanuel Baptist Church Builds Relationships Through Service
For two consecutive years, Immanuel Baptist Church in Lexington, Ky., has served local elementary schools by mentoring youth, organizing teacher appreciation activities and giving students backpacks filled with school supplies. Because of Immanuel's service to the community, the school district superintendent contacted the church when an educator recently died. He asked that Immanuel lead his grieving employees in prayer.
"If they need help, we want to be that help," says Pastor Ron Edmondson of the church's relationship with the public schools.
Edmondson recalled how pastors used to be more visible in the community than they are today. He aims to be "very visible" and has spoken with community leaders about people's needs in Lexington, a college town with a mix of educated and affluent residents and those struggling to make ends meet, according to Edmondson.
Community leaders expressed concern about fatherless children and single parent homes, so the church began partnering with the school system to meet the needs of youth, parents and educators.
Taking an active role in the community and meeting the public's needs has helped drive growth at Immanuel. Additionally, "We intentionally try to build a very strong and healthy staff and volunteer culture," he says, "focusing on discipleship and trying to give people more opportunities through Bible study and serving, being very intentional to get people to feel part of a family."
Immanuel's mission coordinator, Kelly Hale, who helps oversee the church's outreach to public schools, says they would have missed out on the recent opportunity to pray for the grieving educators had the church not made an effort to meet schools' needs over the past year.
"The mission pastor and I both went over and met with teachers and prayed with them and read Scripture," she says. "It was just something we would have never been able to do."
Hale says that teachers begin to trust church staffers when they see them routinely serving the children in their classrooms.
"That teacher knows, every week you've been coming consistently to the class, you've been loving those kids," she says. "So you build those relationships with the teachers and that gives you entrée into the school."
And at the 105-year-old church, learning to communicate effectively is a priority as the church grows. Edmondson says that churches in fast-growth situations must take action to prevent people from getting lost in the shuffle. The pastor also says church leaders must communicate in a way that meets the needs of diverse groups.
"We have to see what's outside of our door," he says. "We have to go and evaluate the community we're living in. We're really trying to be very intentional to address the people who don't look like us."
IMMANUEL BAPTIST CHURCH
Lexington, Ky.
Senior Pastor: Ron Edmondson
Twitter: @RonEdmondson
Website: IBC-Lex.org
Founded: 1909
Affiliation: Southern Baptist
Locations: 1
Attendance: 1,981
Growth in 2013: +499 (34%)
Fastest Growing: 27