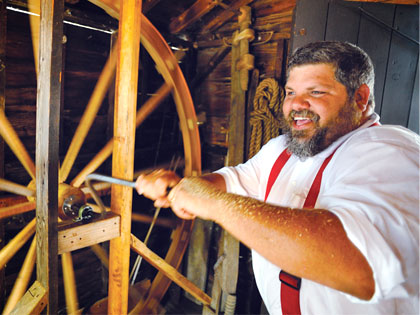 A New York church transforms its property into a 19th century village, drawing crowds … and new attendees.
In 1989, East Shelby Community Bible Church bought and restored an 1854 church building in Medina, N.Y. In 1990, the 50-member congregation decided to have an old fashioned church service and invite the public.
"I stuck an Open House poster on the front door, and we had 275 visitors," said Pastor Erik Olsen.
Soon after, the church bought seven acres across the road and began building a miniature 1800s village, which has become home to the church's biannual West Jackson Corners Old Tyme Days events. It now includes a carriage house, woodworking shop, country store, apple barn, sewing shop and mill with a water wheel.
One Sunday each July and December, the congregation transforms into settlers and fills the village with woodcutters, weavers, blacksmiths, singers, dancers and craftspeople. Guests enjoy tours through the historic church, old fashioned homemade treats, horse and wagon rides, period children's games and even a parade around the village. In 2013, more than 3,000 people attended the outreach events.
Seventy-five percent of the now 275-member congregation first attended a West Jackson Corners event.
"The kids loved it, and the folks there are very warm and welcoming," said Mike and Bonnie Doberstein. "When we finally made the decision to move to a new church, the kids were unanimous in their desire to try East Shelby. We went once and never looked back!"