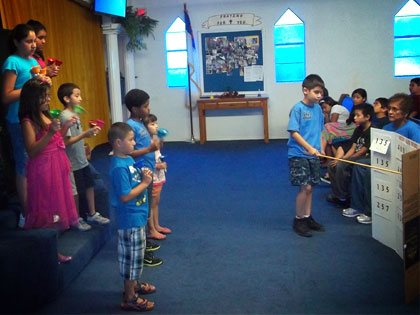 An Arizona church teaches kids creative techniques to teach other kids about Jesus, then puts them into practice.
At Christian Life Center in Douglas, Ariz., children join adults in missions work and community outreach. For four years, Pastor Mary Louise Vigil has trained kids at the church to use puppets, flags, dance and more to reach out to other children in a ministry called Scars That Heal.
This past summer, children from CLC, which averages 40 weekend worshippers, visited Abilene, Texas, where they ministered to children at two local churches. Church member Danny Morales' two sons, ages 14 and 10, participated in the outreach effort.
"My youngest son learned mission work is lot of a work," he says. "I've seen a lot of a growth in him. They're really getting out there meeting total strangers and introducing themselves."
The sight of children ministering generated excitement in the Abilene churches, where CLC ran a vacation Bible school and other programs, Morales says. Most of the children who took part in the VBS were unchurched. While Vigil says she's unsure if any of the children in Abilene became Christians, an altar call did take place.
CLC children not only minister on mission trips but also locally. They've visited parks, nursing homes and hospitals in the Douglas area.
"One of my philosophies about kids is if you train them, if you work with them, then they're going to grow with the church because they're already part of the ministry," Vigil says.