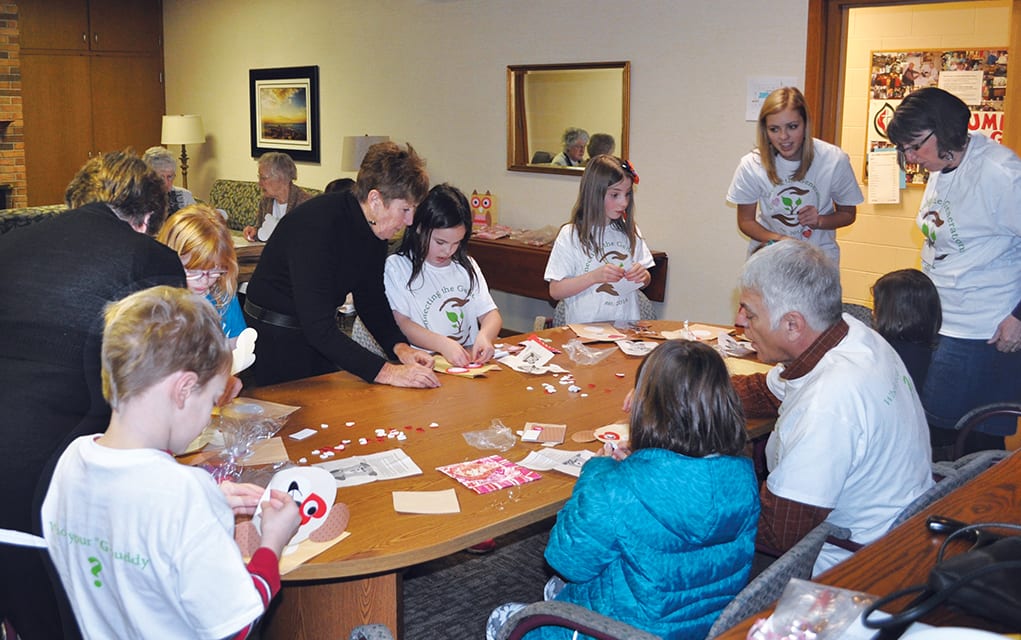 Hosting Senior-Children Get-Togethers Encourages Friendships
THE CHURCH
Excelsior United Methodist Church in Excelsior, Minnesota
THE CHALLENGE
Build bonds between kids and seniors.
ONE BIG IDEA
Host monthly get-togethers to encourage friendship and connection.
Hannah Dudak was fortunate to have grown up near her grandparents, but many of her peers did not have the opportunity to spend quality time with older, caring adults. So a few years ago the Girl Scout developed Connecting the Generations, a program at Excelsior United Methodist that brings together senior citizens and children age 5 to 10. Once a month the group meets to make crafts, play games and engage in themed conversations.
"One time the seniors answered the question: 'How did you spend Halloween when you were younger?'" recalls Dudak, now a college sophomore. "It was awesome because it was so different."
One elderly gentleman went into so much detail about his Halloween pranks that his wife had to shush him for fear that the children listening would try them out, Dudak says.
Up to 15 seniors and children respectively take part in the monthly get-togethers. For her efforts to cross the generational divide at her church, in 2015 Dudak won the Girl Scout Gold Award, the organization's highest achievement.
Excelsior United Senior Pastor Kathryn Schneider-Bryan appreciates how Dudak took the initiative to launch the program.
"The title, Connecting the Generations, really expresses that the goal is to make sure that older and younger families in our congregation aren't separated from each other, and that interaction and building of friendships is significant," she says.
The pastor likened Connecting the Generations to a mentoring program and stressed the importance of children having a wide array of loving adults in their lives. "Kids need at least five healthy people in their lives to look to beyond their own parents, whether it's about faith, friendship or a problem they're having."
Since Dudak has been away at college, her younger brother, Jackson, has overseen Connecting the Generations. Last year, under his leadership, participants took part in Servant Sunday, which entailed making more than 300 sandwiches for the homeless. That project inspired Jackson to take the program in a new direction.
"We will be alternating the months with craft projects, games and making a difference in our community," he says.