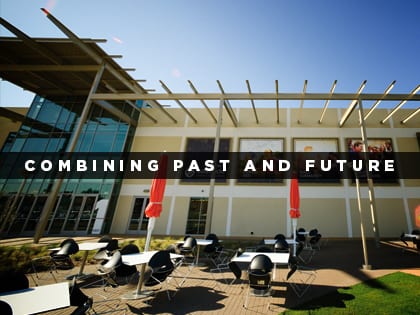 Eastside's campus, a former Boeing Co. facility, celebrates the past while pointing toward the future.
This article is part of our Sacred Space series, which highlights churches that are creatively using architecture to reach their communities with the gospel.
I first got to know Gene Appel more than 15 years ago when I was still at Disney. Since then, I have had the privilege of serving him and calling him friend as he has journeyed from Central Christian Church in Las Vegas, Nevada, to Willow Creek Community Church in Illinois, and finally to Eastside Christian Church in Orange County, California.
Within six months of Appel's arrival at Eastside, the demand outstripped supply because of dynamic growth. And so a new property search was initiated in the expensive, built-out urban area of north Orange County.
For 47 years, engineers and scientists at a Boeing Co. facility in Anaheim, California, built aircraft parts for the space program, created navigation systems for nuclear submarines and developed the "Integrated Battlespace Initiative" that coordinated communication among the U.S. Armed Forces.
But in 2007, Boeing Co. closed the facility. Five years later, Eastside moved in, transforming a space focused on winning wars for the U.S. into a sacred space designed to win hearts for Christ. And around every corner, the history of the building was woven into the new story being told. The midcentury modern, "Jetsonian" bones of the building were brought back to life with a crisp new look and feel.
"We wanted to create a church worship space that would reflect and serve our simple mission to pursue God, build community and unleash compassion," Appel says. "As a result, there is a very simple design to our Anaheim campus that communicates and re-enforces the mission with design, interior and exterior graphics, and practical function."
Before the facility was gutted, members of our design team filled two shipping containers full of satellite dishes, aluminum cable frames, switching boxes, bullhorns, strobe lights and other artifacts left behind by Boeing Co. Today these props add texture and history to adult spaces, where giant circular lenses hang outside the worship center and a midcentury modern radius pattern appears on wayfinding signs, graphics and glass doors. The props are also prominent in "Kidside," where kids walk through "restricted access" areas to "laboratories" where they learn about God and train for the "mission" of following him. Visitors to Eastside love the old-school, high-tech feel; we love the metaphor of old junk creating something new.
The new student center, currently in design, will occupy a second existing building and extend that idea, with recycled wood and handcrafted details. Walls will feature a sheet metal pattern, with salvaged materials being reassembled and repurposed, and will even include old versions of the Eastside logo that celebrate the past while focusing on the future. Found objects like air-return vents and wire racks from the demolition will appear here, as well, echoing the artistic impact and big ideas of the adult space.
This new space sits at the base of a midrise tower that may eventually share space with other ministries and nonprofits; Eastside is considering redevelopment of the site, leasing the building to other organizations or perhaps even selling that part of the campus to harness the growing real estate market. Between the two buildings, former industrial yards and loading docks have been remodeled into an urbane park and playground, which have served large outdoor gatherings and concerts.
At the height of the Cold War, more than 35,000 people found jobs here. Today, thousands more are finding new life and new purpose for the future in this historic facility. A space that housed missile guidance systems is now providing the guidance of God—and changing the spiritual trajectory of a community.
Mel McGowan, an Outreach magazine contributing editor, is the co-founder and chief creative principal of PlainJoe Studios, a multidisciplinary design firm focused on storytelling from branding to building. Mel combined his background in film and urban design during a decade long stint at the Walt Disney Company. Post-Disney, Mel founded and served as the president of Visioneering Studios, where he developed and led a team that won several Solomon Awards for "Best Church Architect" and "Best Builder." At Plain Joe Studios, Mel focuses on strategic branding, multimedia, and spatial storytelling/architecture for companies and causes around the world. Mel speaks extensively on the intersection of story and space and is the author of Design Intervention: Revolutionizing Sacred Space. Mel also serves as an adjunct professor at CBU's College of Architecture, Visual Arts and Design.