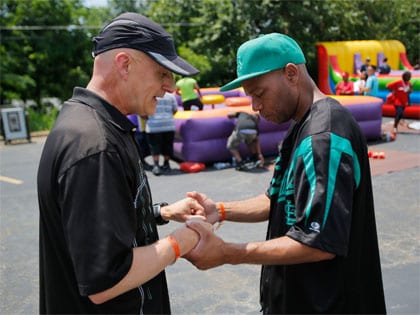 New ministry partners with local and national organizations to provide dental services, smoke detectors and block party.
FERGUSON, Mo. – On June 11, First Baptist Ferguson hosted the launch of the North American Mission Board's (NAMB) Send Relief initiative with a block party that provided free food and festivities to the community as well as free dental services, the installation of smoke detectors in partnership with the American Red Cross (ARC) and the opening of a food pantry in partnership with Children's Hunger Fund.
"I am incredibly thankful and humbled by what we experienced today—volunteers coming from churches from Florida to Texas, serving sacrificially," said David Melber, NAMB's vice president of Send Relief. "An incredible host church and partners helped make this a reality. The cooperative nature of the SBC (Southern Baptist Convention) and spirit of the volunteers to meet physical needs and help share the gospel brought true hope to the community."
The day included the public debut of Send Relief's mobile medical and dental clinics, a block party hosted at the church and another debut event, the Home Fire Campaign, a partnership with the ARC and the Ferguson Fire Department.
Earl Brown, national partner relations manager for ARC's headquarters in Washington, D.C., was in attendance, including for the volunteer training before the 20 teams of four were sent into the neighborhoods to install the smoke detectors.
"In partnerships you bring resources to the game to see the mission accomplished," said Brown. "That is what Southern Baptists bring: a network of volunteers from thousands of churches."
The event modeled the way churches, associations, state conventions and other Southern Baptist entities can utilize Send Relief's two medical mobile clinics, which were purchased by NAMB and fitted with state-of-the-art equipment to be used by medical and dental professionals for community events across North America.
The services provided were just part of the connection made with the community. The church's parking lot remained full for the afternoon with families from the neighborhood enjoying free food from local food trucks and additional entertainment, including inflatable slides and obstacle courses, games, puppet shows and strength competitions.
"One of our primary goals was to tell the community we are here for you," said First Baptist Ferguson Pastor Joe Costephens. "This is a community building effort. We wanted to show that we care and want to serve our local neighborhood. To see this day, with the launch of Send Relief, with volunteers from churches from Kentucky, Tennessee, Florida, Texas and Missouri, it was incredible."
NAMB's Send Relief ministries include its role providing national coordination for Southern Baptist Disaster Relief, one of the top three largest disaster relief providers in the nation. Send Relief applies the excellent structures already in place by the 50-year-old disaster relief service to provide similar relief in the areas of hunger, for underserved children, refugees and fighting human trafficking. NAMB's Disaster Relief team continues to have its own director, and NAMB will remain as coordinator of national disaster relief responses.
Church leaders can explore how Send Relief can assist their churches in discovering new missional opportunities at www.namb.net/sendrelief.
ABOUT THE NORTH AMERICAN MISSION BOARD
The North American Mission Board exists to work with churches, associations and state Baptist conventions in mobilizing Southern Baptists as a missional force to impact North America with the gospel of Jesus Christ through evangelism and church planting. It accomplishes that through Send North America, a national strategy for mobilizing churches to plant churches and mobilizing church planters and other missionaries to assist with those efforts.