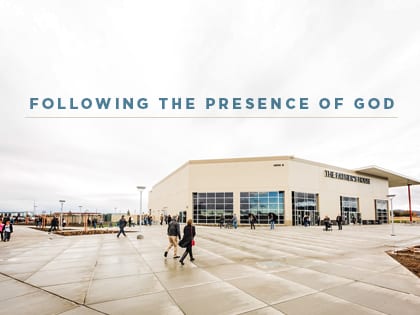 How The Father's House church's recent building project has it poised for innovation and growth.
This article is part of our Sacred Space series, which highlights churches that are creatively using architecture to reach their communities with the gospel.
Tiny houses became a huge trend in 2015. Dozens of small house "microcommunities" sprang up across 17 states, and Google searches on the topic tripled. The combination of lingering financial ramifications from the Great Recession combined with an instinctive movement toward "simplicity" resulted in an American fascination with downsizing.
There's much to be said for reducing our consumption and rejecting our consumerism, but God is still calling some churches to expand. In John 14, Jesus tells the disciples that his Father's house has many rooms—and in northern California, The Father's House church is also making room for more.
The "big idea" for the project centered on the church's passion for following the presence of God and then creating a place for its community to experience that presence. Design inspiration came from the biblical narrative of God's people on a journey of faith in the wilderness and led to an "architecture of impermanence" approach. Elements such as visuals of divided waters create a metaphoric passage through the Red Sea to the main worship area. The sanctuary is a simple tilt-up concrete box, but the focus is a single exposed corner column painted fire red. This "pillar of fire" guides the eye toward the worship center. In the children's space, play areas with fabric shades and graphics of tents reinforce the idea of a wilderness journey and remind worshipers that this "house" is only a way station on the adventure of following Christ to our heavenly home.
The church incorporated these ideas into their capital campaign for the project as well, with the theme "We Can Do This," taken from the Israelites' journey to the Promised Land in Numbers 13:30: "We should go up and take possession of the land, for we can certainly do it."
Greg Surratt, a founder and president of the Association of Related Churches (ARC), stated, "The huge heart that Pastor Dave Patterson and The Father's House have for people is now being expressed in a great way at their newest facility in northern California. By providing a place where anyone can feel welcome and at home, they are removing barriers to the gospel. This latest example of the partnership between Visioneering and ARC churches is making a huge impact on lives."
While The Father's House embraces this narrative of impermanence, the new building won't sacrifice innovation. It's poised to be the most technologically advanced auditorium in the area, and the church has plans to open its building for graduations, high-profile community funerals and other large gatherings—inviting its neighbors to join their story with the story of God, using The Father's House to spread his love.
Microcommunities may work for individual families, but the family of God is always focused on growth. "The Father's House has to get bigger," said Pastor Wendell Smith as the project began, "so that the Father can fill it."
Mel McGowan, an Outreach magazine contributing editor, is the co-founder and chief creative principal of PlainJoe Studios, a multidisciplinary design firm focused on storytelling from branding to building. Mel combined his background in film and urban design during a decade long stint at the Walt Disney Company. Post-Disney, Mel founded and served as the president of Visioneering Studios, where he developed and led a team that won several Solomon Awards for "Best Church Architect" and "Best Builder." At Plain Joe Studios, Mel focuses on strategic branding, multimedia, and spatial storytelling/architecture for companies and causes around the world. Mel speaks extensively on the intersection of story and space and is the author of Design Intervention: Revolutionizing Sacred Space. Mel also serves as an adjunct professor at CBU's College of Architecture, Visual Arts and Design.