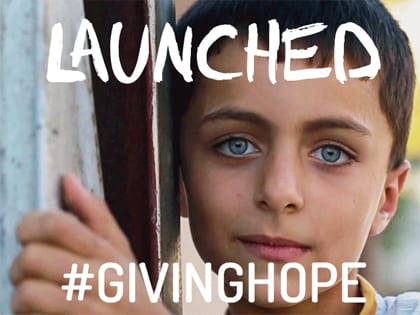 Give hope to refugees in Syria. Pioneers USA launches crowdfunding campaign; just $10 to participate.
ORLANDO, Fla. — Pioneers USA, a respected organization providing aid and relief to refugees worldwide, has come up with a way for anyone to give hope to refugees in Syria—and invite friends and family to do the same.
For as little as $10, you can meet the physical and spiritual needs of Syrian refugees at CrowdRise.com/giving-hope. There, you can make donations and even set up fundraising campaigns of your own, tracking results as you inspire others to join in.
As the refugee crisis in the Middle East continues to escalate, at least 50 percent of the Syrian population has been displaced from their homes. The unfolding tragedy demands a response, but many wonder how to help these victims of war and unrest.
With 3,122 members serving in 108 countries, Pioneers is uniquely positioned to meet the needs of victims of war as they leave their devastated homeland and attempt to rebuild their lives in new host countries.
Pioneers and its partners on the ground are offering immediate physical relief, along with spiritual help such as counseling, Bible studies and prayer.
Pioneers is launching this campaign with Thoughtful Missions, an organization that helps nonprofits use tools such as crowdfunding to build a strong community of supporters. Together, they hope to provide everyday people with an opportunity to provide much-needed help to refugees in Syria.
ABOUT PIONEERS
Pioneers is an evangelical mission movement with 3,122 international members serving on 315 church-planting teams in 108 countries among 207 people groups, speaking 175 languages. For more information, visit www.pioneers.org.