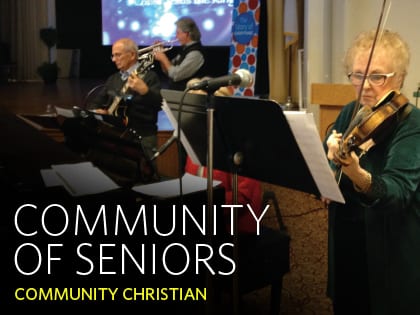 A 55-plus community becomes a contemporary megachurch's newest campus.
There's a popular adage among church leadership that "you grow young, you grow larger." And while that may be true traditionally, an emerging trend might turn the expression on its head.
Today, baby boomers retire at a rate of roughly 10 million per year, what Pastor Dave Ferguson of Community Christian Church calls one of the "fastest-growing demographics." His megachurch, which averages about 6,000 people on weekends through a network of 14 churches across Chicagoland, has developed a successful model for reaching retirees for Christ.
About 12 years ago, Community absorbed as its newest campus a small, struggling church that met inside the clubhouse of a 55-plus gated retirement community, Carillon, in the Chicago suburb of Plainfield. Since then, the campus, which serves the community's 4,000 residents, has continued to grow and today averages 250 weekly attendees.
But Community, a contemporary church, made some adjustments to the campus to accommodate the older congregation. Congregants maintain a more active grief ministry than is typical; worship band members range from 65 to 85; fellowship opportunities include frequent field trips and volunteer opportunities; and the popular small-groups program attracts more people than Sunday services.
Pastor Earl Ferguson, Dave's father who leads the congregation, adds it's just plain convenient for folks. There's plenty of handicapped parking, and residents don't have to drive far. Snowfall is promptly cleared from roads and sidewalks.
Despite the differences, the tie between Carillon and Community remains strong. A teaching team writes the messages for all 14 campuses, and a central arts team prepares the graphics, so the church stays connected and streamlined. Offerings from all campuses go into one "Jesus fund," and the church hosts monthly leadership meetings so everyone's in sync.
"One of the key components is alignment," Dave says. "[Otherwise] you pull each other sideways instead of forward."
He adds that retirees have a lot to offer, that they're generous volunteers who can have a meaningful kingdom influence.
Retirement communities are a perfect church-plant assignment for retiring pastors with "gas still left in their tank," says Earl. He likens such neighborhoods to unplowed mission fields.
COMMUNITY CHRISTIAN CHURCH
Naperville, Ill.
Website: CommunityChristian.org
Lead Pastor: Dave Ferguson
Founded: 1989
Affiliation: Nondenominational
Locations: 14
Attendance: 6,000