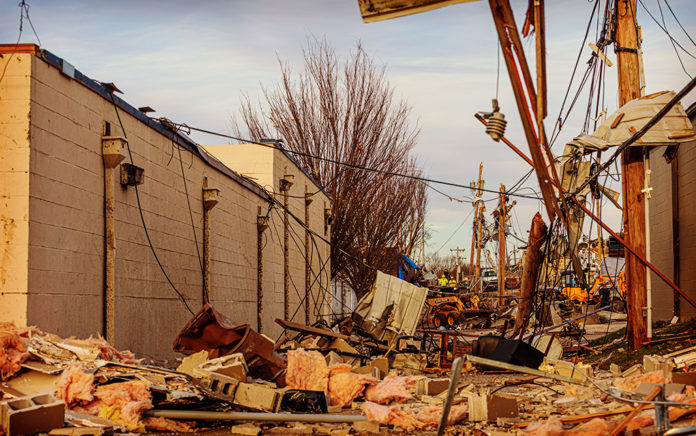 The pastor of Hope City Church shares helpful advice gleaned in the aftermath of the 2011 Joplin tornado.
There are few events that can change a whole community in a matter of minutes like a devastating natural disaster. When an EF5 tornado hit our community in Southwest Missouri in 2011, it changed Joplin forever. The amount of loss was so overwhelming at times you wondered where to start. I remember helping my mom sort through the rubble of her home that was in the direct path of where the eye of the tornado passed over and it resembled a war zone in which nothing was recognizable. As we began to dig through the debris looking for anything we could salvage, a church van pulled up and people piled out ready to serve their community in whatever way they could. They were the first ones on the scene after the rescue response had concluded. The outpouring of love and support from the faith community was amazing!
An EF4 tornado hit Putnam County early Tuesday morning, claiming the lives of at least 25 people. In the past few days, our brothers and sisters in the Nashville area have worked tirelessly to respond to the devastation that rocked their city and neighborhoods. As churches mobilize (it's what we do best) and respond to our church family in Nashville, the question usually arises about how we can help.
A community learns a lot when they collectively experience a life-altering event, and the way the church across the nation responds will have a tremendous impact on that effort. Whether that effort helps or hurts the community of Nashville will depend largely on how we respond. If you are a church looking in from the outside, I'd love to share some encouragement with you that those on the ground would share if they could.
WHAT TO KEEP IN MIND AS WE RESPOND:
1. As those wanting to support Nashville, outside churches providing manpower is more needed in the long-term aftermath than in the immediate response. The fabric of the Nashville community is one in which those who live within an hour radius will be working in the immediate aftermath to provide physical bodies to do manual labor. One of the mistakes that we often make is thinking that if those from the outside load up a bus and take people into the tornado zone we will be helping in the effort. The cleanup effort after a devastating tornado can be very dangerous. Downed power lines, covered roads and dangerous debris can put many in harm's way until the area is stabilized. There will be a need for manpower—we just need to wait until that need is clear and we aren't overwhelming an already devastated area.
2. Churches are the best source for finding out immediate needs. There are good government organizations that help with a natural disaster, but there is no organization that is as connected to the local community as the local church. Find a church that has a good reputation in the community and great leadership within the church and use them as a resource. They will communicate the needs of the members and those whom they are serving. The church was on the front lines immediately after the storm hit Nashville and they will be there long after the media is gone. They also have the manpower for effective goods distribution to those on the front lines. In communities like Nashville government organizations will often get their information from church leaders and pastors.
3. We often think we know what would be good to give, but make sure you give what is needed. The weight that local churches will carry will be enormous. Make no mistake, if you have connected with a church in the area that you trust, money is one of the most effective ways you can support that community. If you do collect goods, make sure you are collecting what is being requested and don't sit on it too long. Within a few days the needs will change as support begins to flow in, so be flexible and be quick to respond to the requested needs. The needs being requested are immediate, and waiting too long to deliver what is needed will make the relief less effective. Churches carry a huge financial load in the aftermath of a tornado, and they will need our financial support as most all of the local resources will be diverted to the recovery. As churches collect financial contributions for Nashville, they are able to keep the money in the local economy and bring immediate relief. Don't underestimate the power of writing a check or collecting a special offering in support of churches on the ground being the hands and feet of Christ.
4. One of the opportunities that will arise out of this devastating situation is for God to be more present than ever before in the lives of those who were impacted. It's often in our darkest moments that God does his most amazing work. Pray for healing, for revival and for the Spirit of God to be working like never before. For those who lost homes and/or loved ones, are hospitalized, and wondered if they would live through the storm, there is a God who knows their name. He will be ever present to show his compassion, his love, and even his goodness. Pray that through this horrible situation God would do more through his people than we could ever have asked or imagined.
Nashville, we are with you. You are not alone. We believe that God is going to use your churches and communities as a light to the country. You are a city on a hill and God's light is already shining through your love for each other and those who are hurting. We are asking God to do the impossible in and through the storm.
Read more about Hope City Church and it's response in the aftermath of the 2011 Joplin, Missouri, tornado here »