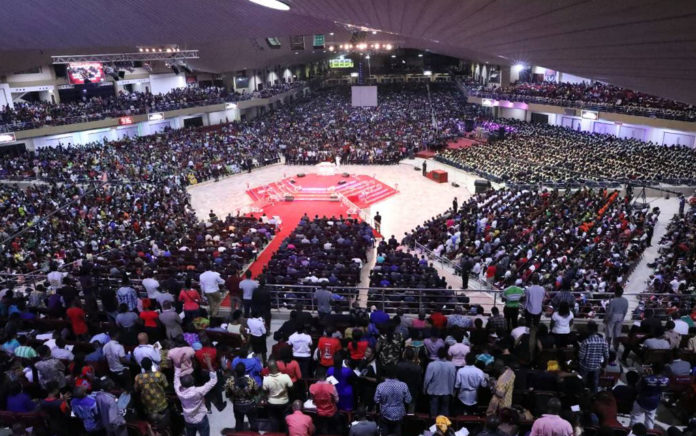 Africa's largest-attendance church grows bigger by training everyone in evangelism.
"The Holy Ghost signaled the planting of 5,000 churches in 2019, and within five months it was done."
That kind of statement is quite common at Winners Chapel (also known as Living Faith Church Worldwide), one of Africa's fastest-growing church networks. Its founder, David Oyedepo, a businessman with a Ph.D. in human development, started the church after receiving an 18-hour-long vision from God "to liberate the world through the preaching of the word of faith."
Beginning in 1983 with four members, the church now occupies a 10,500-acre complex known as Canaanland. The campus includes a world-class university, publishing house, bottled water processing plant, 15-megawatt power generator, various restaurants, four banks and more.
The centerpiece is a church facility that seats 50,000 people, with a total overflow capacity of five times that number. Guinness World Records designated it as the world's largest church auditorium.
For each phase of growth, Winners Chapel has followed new revelations received by its founder. Earlier this year, Oyedepo—affectionately known as Bishop or Papa—launched a new mandate from God to plant 10,000 new churches across Nigeria in 2020, only a dent in this fast-growing West African nation of more than 200 million people.
'EVERY MEMBER RUNNING AFTER THE UNSAVED'
How does Oyedepo believe that God will accomplish such a mandate? First, he is absolutely convinced that God is building his church. "I knew very early in ministry that Jesus will build only his church; not my church nor even our church. So I have never had to say "my" church. That way the Builder can remain on duty in building his church, as Matthew 16:18 teaches."
He continues, "Second, I knew that Paul may plant, Apollos may water, but it is only God who can give increase. This helped me understand that any increase is of God and from God, as 1 Corinthians 3:6 teaches. And third, Jesus said in John 6:44 that no one can come except the Father who sent me draws him. So if anyone came, the Father must have been responsible for bringing them into his presence, as Psalm 65:4 reminds us. All of the above helped me to rely on God for the model of church leadership that would sustain the continuous growth of the church."
This attitude of expectancy, coupled with rigorous training for pastors, translates that each church worker is expected to win 10 souls into the church this year. "By the grace of God, we'll definitely hit 10,000 new churches by the end of the year, planting that many in Nigeria alone," says Steve Ogah, son-in-law of and special assistant to Oyedepo. "We have every member running after the unsaved, wherever they can find them."
Through earlier revelations, Oyedepo has established 12 Scripture-based areas of emphasis. Oyedepo has built these emphases, known as Pillars of the Commission, into a 12-month church calendar with each month centered on one of the pillars: the Word, faith, prayer, vision, wisdom, praise, consecration, healing, the supernatural, success, prosperity and the Holy Spirit. Oyedepo also gives each year a theme, with Breaking Limits as the vision statement for 2020.
"Whatever is taught in one church is taught in all churches. You go to any of our churches, and it's the same thing, standardized," explains Ogah. "We have the same structure globally. Every nation has national oversight, state, district and zonal pastors. Every infant church is under a zone, each zone under a district, with different cadres of supervision. The training here is continuous."
I remember being in the office of a Winners Chapel senior pastor in Kenya who led a church of 6,000 in attendance. He had just received a text that gave him the Scripture passage and topic to preach on that coming Sunday.
"I was told to emphasize evangelism," he said with a smile. "And I was told to fast for many souls to come to Jesus this Sunday."
I had no doubt that he would do just that (as would all other pastors receiving that same text)—and that many more people would indeed come to Christ.
FINDING CHURCH PLANTERS
Church planting is not a new emphasis for Winners Chapel, which typically sets goals each year for the number of new churches it will plant. At the same time, not only has the church started three universities, but it also has created a certification course for prospective pastors through its Bible school, Word of Faith Bible Institute. Offering three tiers of training, the institute is open to everyone. It presents itself as the world's most popular short-course Bible school, taught in over 50 nations, with over 500,000 graduates worldwide since its inception in 1994.
A candidate must complete all three tiers before becoming a Winners Chapel pastor. Upon program completion, pastors are sent out in groups of two, meaning for a vision of 10,000 new churches, 20,000 new workers must be released.
"All of our future pastors come from within," says Ogah. The church's large membership base is taught that they are all missionary evangelists. They're regularly encouraged to be trained, which results in a pool of thousands of applicants who are then screened for admission into the program.
CONTINUAL LEARNERS
I asked Oyedepo what besides prayer is the most important thing he does to help pastors develop as leaders.
"One core area in which I have always charged them is to remain committed to continuous learning," he says. "I believe that continuous learning is the way to sustainable leadership. No one can keep leading except he keeps learning. As one of my mentors, the late American evangelist T.L. Osborn once noted, 'When you stop learning, you start dying,' and many Scriptures also teach us that truth."
One of Oyedepo's frequent sayings is that "Every great leader is a committed learner and every committed learner is a potential leader." Indeed, before starting the church he read 39 biographies of outstanding ministries, particularly David Yonggi Cho of South Korea.
One of Oyedepo's biographers tells the story of him taking a trip to the United States and coming home with boxes of books. When his wife asked what he brought home for her, he pointed at the book collection and said, "With this, I can produce anything you'll ever need in life."
Building from the Good Book, listening to the Holy Spirit and having mentors through contemporary books have gone a long way in guiding Oyedepo to dream great things from God and to boldly step out in faith to see them happen.
WINNERS CHAPEL
Nigeria
Pastor: David Oyedepo
Website: FaithTabernacle.org.ng
Founded: 1983
Attendance: 275,000