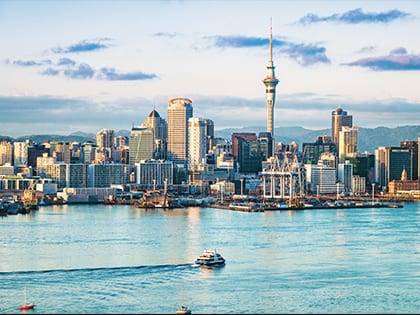 Peter and Bev Mortlock grew a church from 12 people to 10,000. Their secret? They simply always wanted to "reach one more."
Peter Mortlock and his wife, Bev, serve as founding pastors of City Impact Church, which has five campuses in New Zealand and 48 internationally. Peter could have spent his entire life thinking small, but God kept exposing him to role models with big dreams.
Billy Graham Set the Pace
Peter grew up in a rural town. When he was 12, his father died, leaving his mom to raise four children. His sister took him to a church meeting where he had an incredible encounter with Jesus Christ. Tears ran down his cheeks.
"I knew at that moment God was real. He touched my heart like nothing else I had ever experienced," Peter says. That spiritual meeting birthed in him a lifelong passion to help others find forgiveness through Jesus Christ.
"I knew I was called to preach the gospel," he recalls. "The only preacher I had heard about was Billy Graham, who had come to New Zealand, so I figured that's what I should be like."
Sink-or-Swim Church Launch
After falling in with the wrong crowd and going through 40 jobs by the time he was 20, Peter met a Presbyterian minister's daughter named Bev. She took him back to church.
"People looked happy, but I freaked out," he says. "Yet I knew they had something I didn't have. I was sick of the lifestyle of eating, drinking and being merry. I began to search again for God. I gave my life back to Christ, and I got filled with the Holy Spirit."
From that point on, he wanted to do his very best to help others discover Jesus Christ. "I knew there were people just like me who wanted to know there's a greater cause in life," he says. "They want to change."
So he and Bev, now his wife, launched a church in a northern suburb of Auckland. They put an ad in the newspaper and 40 people showed up to a rented clapboard chapel. "Wow, this was revival!" he recalls thinking. "In those days, a big church in New Zealand had an attendance of 300, and we dreamed of the day when we could reach that many people."
From that 1982 start, which had settled in at 12 members—four of whom were the founders and their two young sons—the church began to take root. The biggest vision Peter could imagine was 500 people, though he had no idea where he'd fit them all.
Altar Calls and Role Models
Peter's lifelong ministry practice has been to have an altar call in every service with an invitation to come to Christ. "People do want to hear the gospel," he affirms. "I find people are open to talk about God. In any crowd, there is always someone like me."
The church kept growing, moving from one building to another. "From the start, we had hopes for the church to become large enough to make a difference," Peter says. "We always wanted to reach one more."
Peter found yet another role model through Australian evangelist Peter Morrow, who was pastoring a church in a different area of New Zealand. They had renovated a theater facility. "I remember as clear as day," Peter says. "I saw what God had done, and I prayed, 'God, if you can do it for them, you could do it for me.'"
Bev shared the dream. "For me, the privilege of being brought up in a Christian home, which witnessed miracle after miracle, positioned me for a future where I knew that, through Christ, all things are possible," she says.
A Congregation United
In 1990, "God gave us eight acres," says Peter. The congregation built a 2,200-seat building, 95 percent of the work done by volunteer labor. "It was the training ground for us to reach outside our walls."
The experience of the entire church working together on a big project led to the development of Community Impact Day. Four times a year the congregation serves its community by making over houses, cleaning hospitals and in other practical ways expressing the love of Christ. "We are here to mobilize people to be the light of Christ, to reach the nations and to demonstrate the love of God," Peter says.
Over the years, City Impact Church has grown and extended to become a network of churches across the globe. In 2010, it opened its second campus in Auckland 20 miles south. In the first year of their outreach there, over 2,000 people came to Christ. Other campuses have been opened in New Zealand, Tonga, the Philippines, India, Canada, Mexico and the United States, bringing total attendance across all campuses to over 10,000 adults and children weekly.
Peter continues to play the role of the visionary, "walking up the mountain, not looking behind me," as he puts it. Bev is the strategist who supplies what's needed and figures out how to get there.
Ongoing Discipleship
One of Peter's life verses is Jesus' call to his disciples in Matthew 4:19: "Come, follow me," Jesus said, "and I will send you out to fish for people." "It's as we follow that God makes me what he wants me to be," says Peter. "That's why God has used City Impact Church to build me."
Peter believes the church to be God's greatest maturing machine. "In the process of my own growth," he says, "I want to keep reaching as many people as I can."
And he knows that being a role model matters: "The next generation will ride on our shoulders, just like I rode on the shoulders of the previous generation."
CITY IMPACT CHURCH
Auckland, New Zealand
Pastors: Peter and Bev Mortlock
Website: CityImpactChurch.com
Founded: 1982
Attendance: 10,000
Warren Bird, an Outreach magazine contributing editor, is research director for Leadership Network and author or co-author of nearly 30 books for church leaders. Bird oversees Leadership Network's list of global megachurches at LeadNet.org/world.