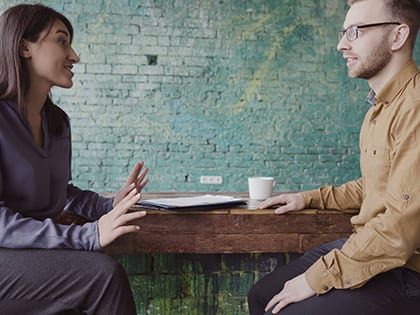 If you had 3–5 minutes to tell someone your life story or testimony, what would you say? Here are critical keys to telling your story.
I was asked recently on a podcast about "3 Keys to Telling Your Story Well." The podcast focused on personal stories, and how sharing them can be a powerful experience, whether you're sharing a recovery story, sharing about your faith or simply trying to inspire someone.
In a world of identity politics, polarization, and where "truth" has been discarded, the one thing people can't argue with is your personal story. But so many of us are simply terrible at telling our story.
When I answered the question, I brought up three unusual keys that most people don't think about:
1. BE SELF AWARE.
We have to start with an accurate understanding of who we are: our talents, gifts and abilities. We'll never tell the right story if we're living under false pretenses.
In my experience, few people are truly self aware, and even fewer make an effort. For your story to resonate with people, it needs to be truthful and accurate.
2. KEEP IT SHORT.
I'm a big believer that you don't just need an elevator pitch for a project or movie you're working on, you also need an elevator pitch about your life. If you had 3–5 minutes with someone who could take you to the next level, or could significantly help your career or calling, what would you say?
Have you thought about it? Most of us would just ramble on and on, and bore him or her to death. Learn to articulate your life and your dream clearly, and make it short and to the point. As an opera singer famously said, "Make sure you stop singing before the audience has stopped listening."
3. PRACTICE.
A well told story rarely happens on the spot. Think about your story, write it down if necessary and practice, practice, practice. Get by yourself in a bedroom, office or backyard and go over it. Your goal isn't to fake it or make it sound rehearsed. Your goal is to make it compelling. Don't waste words. Make sure it works.
You never know when you'll have the opportunity to share your story with one or more people. That's why now is the time to get it right, so when the time comes, it will have a powerful impact.
Phil Cooke is an internationally known writer and speaker. Through his company Cooke Pictures in Burbank, California, he's helped some of the largest nonprofit organizations and leaders in the world use media to tell their story. This article was originally published on Cooke's blog at PhilCooke.com.