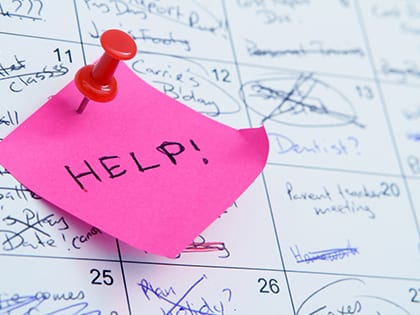 It's easy to get caught up in the busyness of everyday life, but there's one priority we can't compromise: people.
I love the Gospel of John. I find it the most theologically challenging Gospel account, and I appreciate the ways it allows us to look into the intimate relationships and conversations that Jesus had with ordinary people.
John's Gospel includes the reverent yet warm exchanges between Jesus and his relative, John the Baptist. It gives account of the high-ranking Pharisee, Nicodemus, coming to speak with Jesus at night and then being exposed to the light that truth provides. It speaks of the gentle rebuke and invitation that Jesus offered the Samaritan woman at the well. It informs us of Jesus' deep love for Lazarus and his sisters, Mary and Martha. We learn from the comforting exchanges recorded in John 11 that Mary was not the only one who sat at his feet to learn from him—Martha learned the deep theological truths too. In short, because of his commitment to fulfill his kingdom mission, Jesus took the time to "stop" and "see."
In our culture, in our world and in the church, it is so easy to forget the main thing. Our lives are consumed with noise and busyness. We are always striving for what's next. Even in our churches, leadership conversations are about how we can get bigger and better because the end result is church growth. Ironically, Jesus did not build his kingdom through large campaigns, slick programming, marketing or social media efforts. He stayed on mission and stuck to the basics. Jesus made time and invested in people.
If we want to disciple a generation and experience the kingdom of God on earth as it is in heaven, then we must slow down our lives and agendas enough to see and invest in the lives of people. Like Jesus, we can intentionally have conversations about the importance of baptism, expose the darkness by shining light, offer a gentle rebuke or provide healing words of comfort. None of these personal engagements were a part of Jesus' ministry strategy; it was just his way of being in the world.
Jesus always took the time to see individuals, no matter where they were in their life or on their faith journey, and then he made the decision to invest. I am encouraged by the simplicity of how some of the first disciples entered into relationship with Jesus. When Andrew started to follow Jesus, the first thing he did was to go get his brother, Simon, to follow as well. When Philip followed, he went to get Nathanael. Even though Nathanael doubted, Jesus revealed in their early exchange, "I saw you while you were still under the fig tree before Philip called you" (John 1:48). Jesus was always on the lookout.
Discipleship happens through relationships. We can stop to see. We can have the hard conversations and share the truth. We can learn to comfort and love well. We can confess, repent and forgive when we don't always get it right. I thank God that Jesus has modeled the way for us. We can intentionally make disciples only when we discipline ourselves to pay attention to the small things, the everyday things of faith that include availing ourselves to the work of the Holy Spirit to transform lives.
Read more from Natasha Sistrunk Robinson »
Natasha Sistrunk Robinson, an Outreach magazine contributing editor, is the visionary founder of Leadership LINKS Inc. and is the author of Mentor for Life: Finding Purpose Through Intentional Discipleship.