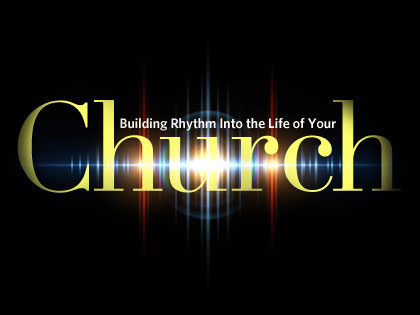 "You'll create a healthy church when you create intentional rhythm with time to breathe."
Ministry is a marathon. This is true for church leaders, for volunteers and for the church body itself. When we drive and push people to sprint all the time, burnout is inevitable. You can grow a large church by constantly creating mountain-peak experiences and pushing for the top. But you will create a healthy church only as you discover the appropriate cycle of moving forward at an aggressive pace, and taking moments to breathe.
There is plenty of discussion about whether churches should be all things to all people, or keep it simple and do a few things well. I definitely lean toward simplicity. We try to balance the five purposes of worship, evangelism (mission), fellowship, discipleship and ministry, and we try to do little else. Our structure doesn't have much of a hierarchy to it, and leaders are free to lead without being micromanaged.
We like to focus on the mission. But this doesn't mean we never push hard for growth. Too many souls hang in the eternal balance for us to get lazy and coast along in mediocrity. And while balance is an elusive target, rhythm is possible. How do you find your rhythm?
1. Focus on five to six peak moments in the year.
Start with the holidays like Easter and Christmas. Then think through any special emphases your church celebrates such as a spiritual growth campaign, a missions emphasis or something like a Friend Day. Don't forget about the non-Sunday events like Vacation Bible School or evangelistic crusades.
2. Build unity and excitement as you climb toward peak moments.
Spread the word with a gathering momentum. Give people specific challenges and calls to action along the way such as, "Write down the names of three people you're going to invite," or, "Fast with us through lunch on Wednesdays and pray for the big day."
3. Celebrate the big wins as a church family.
We recently set a new attendance record, but I tend to shy away from talking about numbers for fear of an overemphasis there. But when I talked publicly about the big achievement, people were excited. It creates a story worth repeating in the future.
4. Take breaks from busyness.
Our church has a minimalistic calendar to begin with. Little happens beyond the weekend service, small groups and the various outreach efforts happening as we live missionally. But in terms of promotion and pushing for a big turnout, we back off after a big day. We tell staff to take an extra day off. We tone down our promotional lingo a bit, partly because when we do need to do a big push, we want it to be noticed.
5. Strengthen the ongoing ministries between the special moments.
When we're not asking, "How can we do this thing big?" we're asking, "How can we improve small groups, create more discipleship moments and pour into our leaders through meaningful interaction?"
6. Cut away the good distractions.
There is tremendous power in concentrating on the mission and eliminating distractions. If a program trips us up on our way to fulfilling our mission, we need to eliminate it. There are plenty of good things churches can be involved in, but for every church there are some best things we can be devoting our energy to, and it varies from one church to the next.
7. Spread the leadership load around.
When I lived in Southern California, I would often see large groups of cyclists riding together. The one in front was fighting wind resistance and making the ride easier for the rest of the pack, but when the leader gets tired, he drops to the back and lets someone else lead. It's called "drafting" and it's important in the life of the church. Counting on the same few people to take the load on every major event leads to burnout.
Some moments in the life of the church ought to stand out from the rest as especially significant, but between these, we need to breathe, rest and recuperate. We've been working on the mission for a couple thousand years now, so there's a bigger picture at stake than just next Sunday. If you're a church leader, it's up to you to discover the rhythm of your church and align with it. People will thank you in the end.
How have you discovered rhythm or fought against the tyranny of the perpetual sprint?