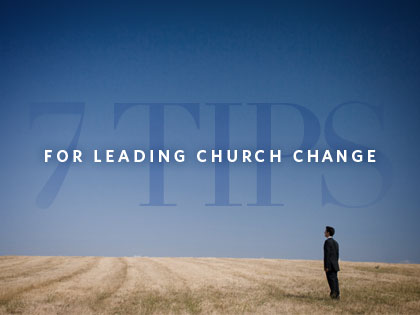 Every church needs change to occur to continue to grow and remain healthy.
Every organization needs change to occur to continue to grow and remain healthy.
Change is hard for some people and is often rejected or rebelled against. Learning to lead change successfully is important for any leader.
Here are seven principles that can help you think through leading change in your organization:
1. Lead change from a pre-established trust in your leadership.
New leaders should be careful not to implement a lot of change early in their leadership unless that change is vital to the organization. Change will be easier if the leader is trusted.
2. Introduce change as early as possible.
People need time to warm up to the change that is coming.
3. Prepare people along the way by keeping them informed of progress during a change period.
Include the good news and the bad news of change in these updates.
4. Get buy-in from as many people as possible.
Sometimes leaders have to lead alone (for those times read this post on the loneliness of leadership), but, wherever possible, include others in decisions concerning change.
5. Follow through on commitments made.
The quickest way to lose trust is to say one thing and do another. Likewise, do not make commitments you cannot keep.
6. Be consistent.
You will keep people's trust through the change if it is easy to figure out where leadership is at and what they will do next.
7. Do not make change a rare occurrence in the organization.
Build a culture of healthy change in the organization so that change will be more naturally accepted.
What advice do you have for leading change? Have you ever been in an organization that lead change poorly?