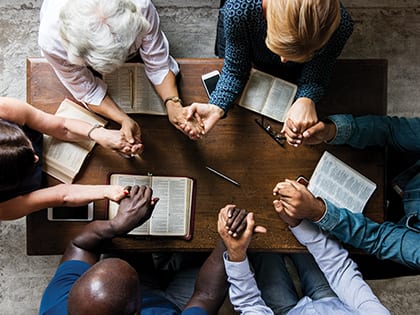 Take intentional steps to plant, grow and develop a healthy multiethnic church.
Today, entire denominations are taking intentional steps to plant, grow or develop healthy multiethnic churches. In the process, they are empowering committed leaders at the highest levels. The Wesleyan Church is one such denomination that should be considered a model for others looking to make systemic shifts in repositioning for the future—a future in which organizational intelligence, credibility and sustainability will be directly tied to cross-cultural competency and diversity.
In June 2016, Dr. Wayne Schmidt was elected general superintendent of the Wesleyan Church. Throughout his career, Schmidt has committed himself to building healthy multiethnic communities of faith. As the co-founder and senior pastor of Kentwood Community Church (KCC) in greater Grand Rapids, Michigan, he led the congregation from 2 percent to 12 percent diversity. Along the way, he also empowered diverse leaders and created systemic equity. In fact, Schmidt installed Kyle Ray, an African-American, as lead pastor upon departing KCC. Under Ray's leadership, KCC has grown to a church of 30 percent diversity.
Following KCC, Schmidt served as chief administrative officer for Wesley Seminary at Indiana Wesleyan University and led the school from infancy to a campus of more than 500 students from 34 states and 11 countries with a nearly 40 percent ethnic minority population. Training at the seminary is now offered in English and Spanish.
Here Schmidt shares what led him to pursue such paths and ends so many years ago.
In August 2005 I sat in the Willow Creek Association's Global Leadership Summit as Bill Hybels challenged us to identify our "holy discontent." In that moment, God broke through with a penetrating question: "Wayne, is KCC called to permeate the whole community with the good news of Jesus Christ, or just those in the community who look like you?"
When we launched KCC, the community was 97 percent white, and KCC remained that way even while our community changed to 30 percent ethnic minority. Fifty different nations were represented in local schools. We no longer reflected our community—or heaven (Rev. 7:9).
Because I grew up in a setting without ethnic diversity, I was slow to perceive how God was calling the church to change. Therefore, when that holy discontent was birthed within me, I felt the need to spend years learning before I started leading KCC through transition. However, God had been trying to get through to me repeatedly over the years, and too much time had already been lost to spend extended time only learning.
The challenge? I had to learn and lead simultaneously.
I read everything I could get my hands on and participated in church-based seminars and experiences such as the Institute for Healing Racism. Most of all, I approached people of color whom I trusted and asked them to be the "safe people" for me to ask my dumb questions. They sensed my sincerity and I experienced their grace.
Soon, my holy discontent permeated our staff, board of elders and congregation. We started by taking small steps, but were committed not to "despise the day of small things" (Zech. 4:10). As we did, God began to draw people and resources to our church to propel us forward.
It is true that learning and leading can simultaneously result in some rookie mistakes that at times hurt people or hinder your progress. But I've also been blessed to experience and learn some wonderful realities along the way.
1. The people you lead love to learn with you, to join you in the journey. Your mistakes, when readily admitted, keep them from being paralyzed by attempted perfectionism. You're not an expert instructing them but a fellow journeyer discovering along with them.
2. When people sense sincerity in your heart, it prompts a "love [that] covers a multitude of sins" (1 Pet. 4:8). I have been amazed at how forgiving people have been of my leadership lapses when they see progress brought about through humility and intentionality.
3. When you have so much to learn, it causes you to listen more, and one of the greatest gifts we can give to those we lead is to be a good listener.
* Adapted from Leading a Healthy Multi-Ethnic Church by Mark DeYmaz and Harry Li (Zondervan).
Mark DeYmaz, an Outreach magazine contributing editor, is the directional leader of Mosaic Church of Central Arkansas and co-founder and president of Mosaix Global Network. For more: OutreachMagazine.com/Mark-DeYmaz