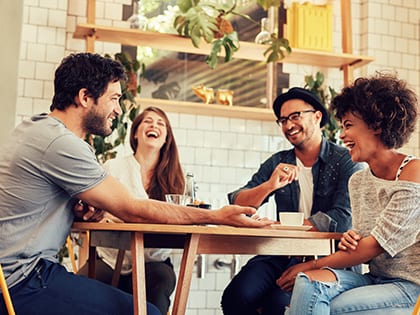 "If we desire personal growth, we have to get around people who are or have already been where we wish to go."
"[Rehoboam] rejected the advice which the elders had given him, and consulted the young men who had grown up with him, who stood before him." (1 Kings 12:8)
You know the story: Rehoboam—after succeeding David and Solomon as king of Israel, ignoring their counselors and listening to his peers—lost 10 of the 12 tribes.
If we desire growth, we have to get around people who are or have already been where we wish to go. Don't huddle with your peers. Peers are and should be good friends, but they are not always good counselors. Therefore, if I had a piece of advice for pastors—especially young pastors—that I believe would enhance their ministries, it would be: Get around gifted, successful people and listen.
Here are a few things that especially young leaders should consider.
1. Play with your peers and enjoy their company, but grow with those who are already where you wish to go.
"The young men who had grown up with him spoke to him …" (1 Kings 12:10)
"When Rehoboam was young and inexperienced and could not withstand them (rouges) …" (2 Chron. 13:7)
2. Don't seek to be the big fish in a small pond; you'll stunt your growth.
"If anyone thinks himself to be something, when he is nothing, he deceives himself." (Gal. 6:3)
3. Don't attempt to reinvent the proverbial wheel. Find the proven and improve on it.
"There is nothing new under the sun. Is there anything of which it may be said, 'See, this is new'? It has already been in ancient times before us." (Eccl. 1:9-10)
However, the old adage "If it ain't broke, don't fix it" doesn't always hold true. Sometimes the wheel needs realigned.
4. Be quiet unless you are asking a question.
Speak only when you have something to say, something of value.
"Let every man be swift to hear, slow to speak …" (James 1:19)
5. Find mentors who do not have the time for you and drive them crazy until they give you their time.
"Because of … persistence he will rise and give him as many as he needs." (Luke 11:5-13)
The more we grow, the fewer mentors there are. Eventually, we should be mentoring more than we are mentored.
6. As you grow, only hire people who can do what you have hired them to do and can do it far better than you can.
"You shall select from all the people able men, such as fear God, men of truth, hating covetousness; and place such over them to be rulers of thousands, rulers of hundreds, rulers of fifties, and rulers of tens." (Ex. 18:21)
Hire people for what they bring to the table. Pay them what they are worth, and you will surely take care of their need.
7. Do not seek agreement; seek guidance.
Agreement does not necessarily equate to loyalty. Loyalty comes by those who will stand with you even if they disagree with you.
"There is still one man, Micaiah … by whom we may inquire of the Lord; but I hate him, because he does not prophesy good concerning me, but evil." (1 Kings 22:8)
8. Be aggressive, yet gracious.
Do not think too highly of yourself. Wash some proverbial feet.
"I send you out as sheep in the midst of wolves. Therefore be wise as serpents and harmless as doves." (Matt. 10:16)
A problem in many churches is that we cater to the caterers and serve the servers, but neglect loving our neighbors and caring for strangers.
9. Don't seek to be the smartest person in the room.
If you are, you're in the wrong room.
"Let not the wise man glory in his wisdom, let not the mighty man glory in his might, nor let the rich man glory in his riches; but let him who glories glory in this, that he understands and knows Me, that I am the Lord, exercising lovingkindness, judgment, and righteousness in the earth. For in these I delight," says the Lord. (Jer. 9:23-14)
Be absolutely sure for nothing—absolutely nothing. Arrogant, presumptuous pride has brought the fall of greater people than you and me.
10. If you think you have arrived, you're dead and in heaven.
Not that I have already attained, or am already perfected; but I press on, that I may lay hold of that for which Christ Jesus has also laid hold of me. Brethren, I do not count myself to have apprehended; but one thing I do, forgetting those things which are behind and reaching forward to those things which are ahead, I press toward the goal for the prize of the upward call of God in Christ Jesus. (Phil. 3:12–14)
God is not looking for perfection—he already found that in his Son. He's looking for people who are willing to humble themselves and serve.
Tony Foglio is a pastor, church planter, businessman and author of Discover the Bible: Journey Through the Bible As It Was Meant to Be Read (Thomas Nelson, 2004). For more information, go to DiscovertheBible.com.