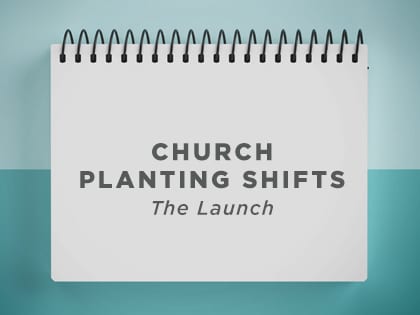 "Church planters tend to think that their individual and local church planting model is the norm globally. But that's not the case."
Church planting is somewhat of an entrepreneurial enterprise that tends to be on the front end of change, both catalyzing change and being catalyzed by change.
This is the crux of what I want to discuss in this four-part series. The series is intended to keep grounding us in the realities of church planting while helping us seek creative ways to engage with our specific contexts.
Let me be honest … church planters tend to think that their individual and local church planting model is the norm globally. But that's not the case.
Furthermore, our tendency is to cling to whatever conference we attended and mold our plant around a personality, model or successful movement. That also makes it hard to think about different methodologies being helpful and appropriate.
For example, let's look at the church planting launch service.
The methodology of starting a church with a publicly announced beginning has probably influenced all of us. Even if we are doing a missional-incarnational approach to church planting, at some point we realize that there is value in inviting people to our community. This may not be on the same scale as the traditional approach, but because people are intrigued to check something out the first time, most church planters have a grand opening of some type.
One of the lessons we have learned is that big beginnings are now becoming less common. Although many still have "grand openings," since the 1980s and the 1990s there has been a decline in the size and audaciousness of large launches when planting new churches.
But large launches are still out there.
Large launches tend to be successful when we consider a few factors. These factors are not things I'm saying are good, but things I am saying help promote a large launch.
First, it helps to have clearly identifiable people groups living in relatively close proximity if you are planning a large launch.
In addition, large launches also benefit from new people moving into a community or sufficient homogeneity that gives the church traction and acceptance within a certain subsection of the community population.
Let's say the community is predominantly Haitian and there are not a lot of Haitian churches. A larger start to the church might see more success because of the need and void present.
Second, it is critical to consider what time of year is best to launch in your context.
One example: Many churches aim to launch around Easter. Although this may seem like the ideal time due an openness to the gospel at this time of year, the proximity to summer (a down and travel time for many) and inflated numbers may lead to discouragement shortly after the launch. In my experience, fall is the best time to launch a church plant.
You typically have a three- to nine-month window to launch the church and get the small groups and other ministries going. If you go longer than that, you will lose people who fear the church will not be sufficient for their needs.
Another rule of thumb when it comes to timing: You also have three to nine months of preparation and meeting before you need to officially launch the church, so plan accordingly.
When it comes to reaching people in our communities, we always need to celebrate new beginnings when our core team is ready, but the prevailing trend is to downplay the launch somewhat and build in core strength for the long haul, where real growth occurs.
More on that next time …
For a more comprehensive discussion on church planting, don't miss the July/August issue of Outreach, landing in mailboxes in June. Subscribe today.
Ed Stetzer holds the Billy Graham distinguished chair of church, mission and evangelism at Wheaton College and the Wheaton Grad School, where he also oversees the Billy Graham Center for Evangelism.