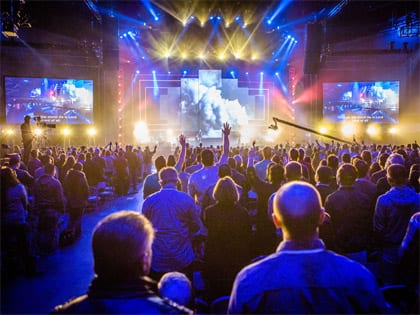 Send Conference redefines mission for students, business professionals, church leaders and more during two-day event.
LONG BEACH, Calif. – On Feb. 3 and 4, The Send Conference 2017 in Southern California provided encouragement and practical takeaways for attendees to know why and how to join God's global mission in their everyday lives. Students, families, business professionals and church leaders from 42 states and six countries experienced two powerful days of main sessions, breakouts and worship. The conference's goal was to provide practical ways and next steps for attendees to allow God to weave the rhythms of their lives, jobs, schooling and relationships into his global mission.
"God is sovereignly orchestrating everything that happens in the world for the accomplishment of His purpose," said David Platt, president of the Southern Baptist Convention's International Mission Board (IMB), during one of five main sessions. "Each of us has a part to play in the accomplishment of that divine purpose."
Presented in partnership by the North American Mission Board (NAMB) and the IMB, Send Conference 2017 SoCal was held at the Long Beach Convention and Entertainment Center in Long Beach, California. Main session speakers Platt, Francis Chan, Vance Pitman, D.A. Horton and Trip Lee wove together one message: We must redefine our view of what missions is and who accomplishes it. Every believer is called and equipped to be a missionary in their everyday lives. Austin Stone Worship led worship throughout the two days, and special guest Phil Wickham led on Saturday. A late-night concert by Rend Collective had the multigenerational crowd on its feet in celebration and worship.
Speakers shared the need for people to hear the gospel around the world and in our communities. Platt described how God is orchestrating his purposes in both the refugee crisis and our own front yards, and Chan pled with attendees to make Jesus their addiction—not an addition to their lives—in order to share his love with others. Pitman and Lee challenged attendees that they must be the ones to tell the people in their lives about Jesus.
"This is the most important message in the world and the church is the most important organization in the world because the message we've been called to proclaim has an eternal significance," said Lee. "We are the 'them' in the gospel that is shaping history for the glory of his name."
Breakout sessions led by pastors, practitioners and leaders in ministry, including Ethics & Religious Liberty Commission President Dr. Russell Moore, 9Marks President Mark Dever and The Gospel at Work author Sebastian Traeger, provided practical application in areas like collegiate church planting, compassion ministry, social justice, reaching diverse populations, leading women to advance the gospel and international missions.
As divisions of the Southern Baptist Convention, NAMB and IMB resource, equip and provide tools for pastors and churches to move their people to missional action. The Send Conference is one opportunity to mobilize believers and connect them to the local church. NAMB president Kevin Ezell closed the conference by encouraging attendees to learn more about taking their next step by visiting NAMB.net/sendme for church planting and mercy ministry opportunities, and IMB.org/next for international missions and church planting opportunities.
"These two days are only the beginning. You are missionaries and have already been sent," said Ezell. "The first place you should go is to your pastor and your church to determine where your next step on mission is."
Two additional Send Conference 2017 conferences will take place on May 19 and 20 in Dallas, Texas; and July 25 and 26 in Orlando, Florida.
Learn more about Send Conference 2017 and register for upcoming conferences at SendConference.com. Follow @NAMB_SBC and @IMB_SBC on Twitter, and follow the hashtag #Send2017 for additional news and updates about the conference.
ABOUT THE NORTH AMERICAN MISSION BOARD
The North American Mission Board exists to help Southern Baptist churches take their next missional step. It accomplishes that through Send Relief compassion ministries at local and national levels and through Send Network, which helps Southern Baptists plant churches throughout North America.
ABOUT THE INTERNATIONAL MISSION BOARD
The International Mission Board partners with churches to empower limitless missionary teams who are making disciples and multiplying churches among unreached peoples and places for the glory of God.