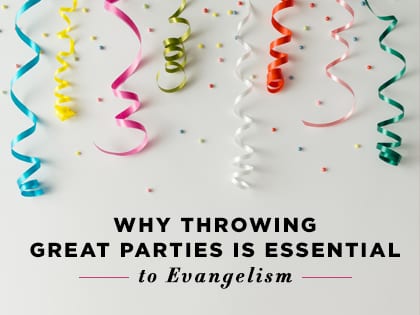 "When asked about the one true key to bringing people far from God near, I simply say, 'Start throwing great parties.'"
In 2 Corinthians 5:18-20, we get a unique angle on evangelism: "All this is from God, who reconciled us to himself through Christ and gave us the ministry of reconciliation."
When you hear the word "reconciliation" you probably don't picture a corner street preacher, a pastor yelling at a faceless crowd to repent or even good-hearted evangelicals going door to door to share the gospel. Reconciliation requires more. More time, more listening, more patience, more prayer—and, yes, maybe more parties.
When asked about the one true key to bringing people far from God near, I simply say, "Start throwing great parties." I don't mean to sound trite or even edgy. I am unequivocally advocating for a missionary skill that has been in play since Acts 10. Literally every friend I have helped find Jesus first got invited to our home for a party.
In Acts 1:8, Jesus tells believers that we will be "witnesses." And in Acts 8:1, because of persecution, believers finally go—the witnessing begins! For almost eight chapters the message of Christ was shared only among Jews. But after chapter 8, God's people had to learn a new missionary skill: crossing cultures, customs and barriers to draw people to Jesus. They had to learn to open their homes and break down barriers through shared story and shared food and drink.
The mark of the Holy Spirit was literally witnessed by watching unlike people come together in homes, at tables and around fires that stoked the stories that would change the history of the world.
So, what happens at a party that is so important?
First, a party is any social gathering where friendship is created.
The goal of an evangelistic party isn't that someone will come to Christ. Instead, the goal of a party is that the guests will want to get together again. As stories are shared, people naturally connect at a heart level and true friendships are made.
Secondly, spiritual movement naturally flows from social connection, not the other way around.
In the two churches we've planted, people got so close as friends that as they participated in the mission of our community, spiritual growth happened naturally. And when they came to Christ, it was their friends who discipled them forward. There was no bait and switch or weird invites to a church service. People went from party, to friendship, to spiritual conversations, to spiritual growth and kingdom living. It just happened naturally.
Third, parties help people see that Christianity is much more than church attendance and moral codes.
I have always said that evangelism isn't simply telling people something they've never heard. More often, evangelism is helping people change their assumptions. When non-Christians see believers in true, honest conversation, enjoying great food, drink, music and good humor without going to the "dark side" or abusing their freedoms, it speaks volumes to what true kingdom life looks and feels like.
In a great party, we learn to listen instead of judge. We find out where someone could use a hand and we act on it. It's where we become advocates instead of adversaries, and where people cease to be targets or projects and become friends.
If you need help with the ancient missionary skill of party, grab some friends and check out Happy Hour: Etiquette and Advice on Holy Merriment. This little book will instruct you in the art and acts of holy merriment and the ministry of reconciliation.
Hugh Halter is the U.S. director of Forge America, an apprenticing community committed to training men and women to live as missionaries where they already are. He is the author of a number of books, including Flesh: Bringing the Incarnation Down to Earth and Brimstone: The Art and Act of Holy Nonjudgment. For more information: HughHalter.com