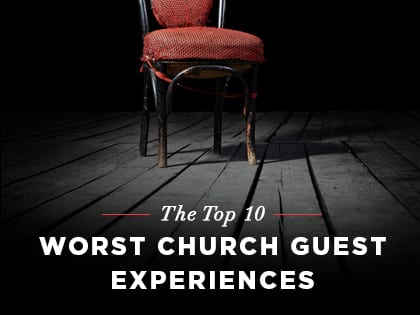 "There is no humor in these 10 awful experiences. It's the sad story of holy huddles and mean church members."
"Our church is really not for you."
Yep. That comment was really made to a church guest by a church member. Unbelievable.
I know I have a fascination with church guests. Indeed, I looked at all of the posts I have written on the topic, and they could become several books.
My readers seem to want to discuss the topic, as well. One of my posts on church guests has reached almost 1 million views. That's crazy.
So I did a fun exercise. I say "fun" in a perverse kind of way. I looked at the hundreds and hundreds of comments you made on church guests, and I compiled my top ten list. To be specific, these are the top 10 worst guest experiences my readers have noted.
1. A church member told the guest the church was not for her because she was African-American.
It makes me angry to write those words. The segregationist church remained all-white, but is declining rapidly.
2. Ushers would not let guests enter the worship service because they were too late.
It didn't matter that the church website did not have the correct time for the service.
3. A single mom was told she couldn't leave her four young kids in the children's area.
They let her know they were at capacity. She went home. The last time I heard, she has not visited a church since.
4. A church member blew his car horn at a guest who was about to take a parking spot.
He told her that was his spot. She left. She probably has not returned.
5. A guest was told she would be more comfortable at another church because of the way she was dressed.
She couldn't afford the country club attire of the snotty church.
6. The pastor announced in the service that their small groups were open only to members.
In fact, he specifically said the church does not allow guests in the groups.
7. A family of six was told to move from the pew where they were seated.
These guests did not know they were in the matriarch's pew. The guests were not asked to move; they were told to move. They did. Straight out the door.
8. A guest was told he was singing too loudly.
The member with the decibel monitor must have caught him.
9. A member pulled aside a guest and told him how terrible the pastor was.
The guest did not even know the member. And he never came back to get to know him better.
10. A single mom with three kids in tow went to three locked doors in the rain.
There was not a sign to direct guests to the entrance. But the church members knew exactly where to go.
There is no humor in these 10 awful experiences. It's the sad story of country club churches, holy huddles and mean church members.
Do you have any stories to share about terrible church guest experiences? Post them in the comments.
Thom S. Rainer serves as president and CEO of LifeWay Christian Resources. Dr. Rainer can be found on Twitter (@ThomRainer) and at facebook.com/Thom.S.Rainer. This article was originally published at ThomRainer.com on Sept. 19, 2016.