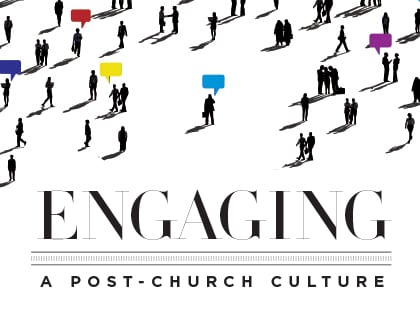 Lessons from this year's Outreach magazine/LifeWay Research survey of large, fast-growing churches.
As part of our coverage of the 2016 Outreach 100 Fastest-Growing Churches list, the executive director of LifeWay Research, Scott McConnell, analyzed the patterns behind the numbers. Here's what he found.
Earlier this year I had the opportunity to visit a friend in Africa. Many of the people I met there spoke English; if they didn't, my friend did the speaking. A couple times he wasn't around and I had to fend for myself. My mind tried to help me out by providing the words that were useful in similar situations in the past. The problem was, those words were in Spanish, and no one in East Africa spoke Spanish. I had to admit, I didn't have the language tools to bridge the cultural divide.
Today, many church attendees in the U.S. face a similar struggle. They realize the culture around them is not what they thought it was. And the words that come to mind to try to connect with those in the culture are not the tools that can bridge the cultural divide.
This is not a new challenge. As the apostle Paul traveled from city to city, he connected with people in different ways. He always shared the gospel, but his starting point depended on where the people were at in their beliefs. He tied the gospel message to what the people already believed from the Law and the Prophets in Antioch of Pisidia. He appealed to the belief in a creator in Lystra. And he described an unknown god in Athens.
As the American culture shifts, people have different beliefs and different experiences. Many church attendees see church as the only place they can be with people who share their values. While believers need the opportunity to recharge and find firm footing on the Rock, there is a danger that today's culture will tempt many churches to become more internally focused.
Every year, LifeWay Research, in association with Outreach magazine, pulls together data from churches across the country, seeking to identify and rank the nation's fastest-growing churches. We also list the 100 largest participating churches. These quantitative lists are only the tip of the iceberg. Each number represents real people, real stories and real movement of the Holy Spirit in their lives.
As we gather numbers, we also look for patterns in these stories that may be helpful to other churches. This year, as we looked through the surveys and interviewed leaders, we saw a theme of engaging a post-church culture.
Not every large church follows these patterns, and not every church that implements these principles will grow. But we believe we can (and should) glorify God for what he has done for others and ask ourselves if any of these principles fit our context or need to change our thinking.
1. Accept people where they are.
In 1964, Justice Potter Stewart wrote his oft-quoted phrase, "I know it when I see it," as he described his threshold test for obscenity.
This threshold test is true for recognizing the obscene, but it also describes how our understanding improves when we get a glimpse of the incarnation of our goals. Often our vision statements are so forward-looking, we don't understand what the culture actually looks like today.
Ricci Del Priore, a campus pastor at Parkview Christian Church in Orland Park, Illinois (No. 64 Largest), describes the church's heartbeat as going after people who are far from God. Parkview pushes their people to connect with their neighbors they are already doing life with and invite them to church.
Del Priore describes a conversation about a year ago in which the senior pastor, Tim Harlow, caught a glimpse of the culture he had worked hard to create.
After a service, a man in his 20s who had been invited by a friend went up to the senior pastor and said, "This was my first time in church, but I need to tell you, I've never been a real religious guy. But this was really [good]." Only instead of saying "good," he used a phrase with an expletive.
Really? He just swore in front of the senior pastor?
Instead of being shocked or offended, the staff at Parkview began referring to "Expletive Eddy" at every leadership team meeting. They knew him when they saw him. He embodied exactly who they were trying to reach. In fact, they started using him as a threshold test: Were the things they were doing reaching this kind of person?
He is not just a target—he is a real person. And now another one of his friends is attending as well.
Discovery Church in Colorado Springs, Colorado (No. 75 Fastest-Growing), has a heart for reaching lost, hurting and broken people. The lead pastor, Greg Lindsey, says one of the church's values is raw community, expressed in the mantra: "You've got a jacked-up story. Me, too!"
Sonny Hennessy, executive pastor at Life Church in Green Bay, Wisconsin (No. 2 Fastest-Growing), says the people who are invited may go to a fortune-teller on Friday night and Life Church on Sunday. "As long as we church people don't freak out about the fact that they're searching … we get to show them the right way."
When Sonny and her husband, Senior Pastor Shawn Hennessy, moved to Green Bay from the South, they found people had a church history, but it was something they were born into. Many simply did church; they didn't enjoy it. It was a heavy-drinking area and for many, their behavior throughout the week had nothing to do with whether they attended church on Sunday.
Three months after arriving, the Hennessys made a conscious decision to "marry this dirt." They changed their whole thinking from being disgusted with the culture and judging it to engaging the culture. This would be their spiritual soil.
That is the first principle of engaging culture today: Love and welcome the people in your community with all their habits, brokenness and hurt.
A church can't be engaged in its mission if it disengages from its community.
2. Make it easy for your congregation.
Have you ever thought about how many places you can lead someone to simultaneously?
A GPS device will let you enter multiple destinations and plan a course for all of them. You may be 20 minutes away from each of three destinations when you start, but following the GPS, you will not reach all three in 20 minutes. In fact, it may take more than an hour, because the GPS leads you sequentially. It can direct you to those destinations only one at a time. You must arrive at one before leaving for another.
Church leaders are not limited to sequential leadership, but the reality is that it is difficult to lead people to multiple places at the same time.
As we look at growing churches, we see their leaders have a similar response to this reality. Growing churches keep their strategy and their direction for their congregation simple. It's not that only a few facets of discipleship need attention. It's that there is so little attention to be harnessed.
"We really approach everything with the mindset of 'How can we make this simple, strategic and obvious for them?'" says Roman Archer, executive pastor at Next Level Church in New England (No. 20 Fastest-Growing).
As a church attendee, that sounds refreshing. Who is interested in ministry that is complicated, directionless and difficult to understand? Yet, if leaders are not constantly and consistently working to make things simple, strategic and obvious, they won't be. In fact, it will be ministry that attendees are quite happy to watch their leaders do for them.
If anyone has an excuse for having a complicated ministry, it is megachurches. But when we interview the leaders of megachurches, something is markedly different from other interviews we do. We cannot get more than two questions into the interview without the church leaders articulating the church's strategy.
We didn't specifically ask for it and they didn't call it strategy. They labeled these concise phrases as "vision," "approach" or "heart." But they could not describe their church or talk about evangelism without sharing their simple, easy-to-remember strategy for their church.